Mike Conway has been re-signed for a second year at IndyCar midfielders Dreyer & Reinbold – and, in a surprise move, he will be joined at the team by fellow Brit Justin Wilson.
Team co-owner Dennis Reinbold said: "We are excited to be able to put a deal together for both Mike and Justin. They are both really talented drivers and we believe that they will be great team-mates."
Wilson drove last year for popular underdogs Dale Coyne Racing, becoming the only driver outside the big two teams of Penske and Ganassi to win a race when he took victory at Watkins Glen. He also won one race the previous year for Newman/Haas/Lanigan.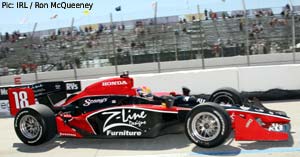 He is bringing his primary sponsor from last season, furniture company Z-Line Designs, with him to DRR – a development that is likely to cause problems for the perennially underfunded Coyne team.
Z-Line founder Jim Sexton said: "With Justin Wilson driving the Z-Line Designs/Dreyer & Reinbold Racing IndyCar this year the competitive promise is very high. Justin's overall talent will only improve in 2010 as the series balances road courses and ovals. I think he's ready for a break out year, and I can't thank Justin enough for continuing to represent Z-Line Designs."
Wilson was also in a bullish mood: "I really like the direction that DRR is headed in. They have put a lot of work in over the winter and that is very encouraging. I believe that we will be very competitive and my aim is to win the championship. I know it may seem steep, but I feel that we have a very good chance and I'm ready to win some races."
Coyne told SpeedTV.com's Robin Miller that the loss of Z-Line Designs was expected, but he had hoped to sign Wilson to a two-year deal: "I think his deal with Dreyer & Reinbold is only for one year and that's Justin's prerogative."
Wilson is known to be well-regarded at both Penske and Ganassi, and the 31-year-old former F1 competitor and Champ Car race-winner may be trying to keep his options open in the hope of crowning his career with a stint in a championship contender.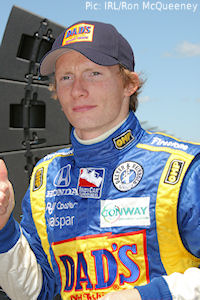 His team-mate has been confirmed as Kent's Mike Conway, whose mixed fortunes in 2009 made his return to the team far from certain. Although he qualified well at most road courses and took a podium at Infineon – the team's first since 2006 – he also gained a reputation for crashing out of races and making errors.
He said: "I'm very excited to re-sign with DRR for the 2010 season. Last year there was a lot to learn and was a tough season, but now I'm more prepared and looking forward to the season ahead.
"Over the winter everyone has been striving to build a better team and from what I have seen it all looks very exciting. I'd like to thank all of my sponsors for all their continued support and can't wait to get out and win races this year," said Conway.
The two drivers will take part in the IndyCar Series open testing sessions at Barber Motorsports Park in Alabama on February 24 and 25. Team co-owner Robbie Buhl said: "I'm as excited as I've ever been – I think this is the best focus we've had in years.
"It's been a long time since we've been in a position to have two very competitive entries and we couldn't be happier. We are ready to win some races and really feel that we can do it with Justin and Mike. They are exceptional drivers and we are thrilled to have them on board with us."
Read a Q&A with Wilson, Conway, Reinbold and Buhl on the IndyCar site here.