The cats fell away leaving the mice to play in the Camping World Indy Grand Prix at the Glen, as the midfield teams dominated the results and the championship leaders had a weekend to forget.
Only Tony Kanaan – battling through a bad knock to an often-injured wrist – finished anywhere near the front, taking third. Apart from him, the glory went to teams unused to the limelight like Rahal Letterman, AJ Foyt Racing, Dreyer & Reinbold and Dale Coyne Racing.
Ryan Hunter-Reay claimed victory, beating Darren Manning on a re-start. Buddy Rice went from 17th to fourth. Bruno Junqueira and Mario Moraes were sixth and seventh and thought they should have done better.
Some of the favourites fell early, like Helio Castroneves who never recovered from starting at the back after failing to set a qualifying time, or Dan Wheldon who was the biggest casualty when the leaders slowed to avoid front row qualifier Justin Wilson as he dropped back with gearbox problems.
Others lasted longer before disaster struck from the strangest of directions – Scott Dixon, second behind the safety car and surely favourite to take his fourth straight win at the circuit, swung his car too hard while warming tyres and span. Pole-sitter Ryan Briscoe could not avoid hitting him and they both ended up at the back.
"I was a complete idiot," said Dixon, and no-one disagreed. Kanaan said it best: "I guess he's human, isn't he? The guy is having a fantastic year, you think he has some extra power from another planet or something, and there you go."
With some cars planning on pitting three times and others hoping to stretch two stops, it was clear strategy was going to be as important as driving ability – and perennial runner-up Vitor Meira looked to be best placed to take the win as the second half of the race unfolded.
But he was shunted out by a contact with EJ Viso, and that left the man who'd pitted before him, Foyt Enterprises driver Darren Manning, at the front of the field under a yellow flag and hoping against hope that he wouldn't need to pit again or surrender too much ground while saving fuel.
He said: "I was in the lead and it was about to go green – and I knew I was probably going to be a sitting duck with saving fuel. But we were willing to take that and hold off as many people as we could, make the drop into the top six.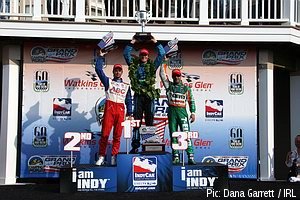 "But as soon as a couple more yellows came out we were golden. I was waiting for those magic words from AJ that we've got to go to the end on full rich on my fuel trim.
"We're a small team – my only team-mate is AJ, and he's a tough taskmaster. He sets a high standard. It's extremely difficult by ourselves, but with the resources we have, we're doing pretty well. We validated ourselves with this drive."
The safety car period that began with Meira's crash on lap 39 continued almost without break until lap 54 of 60, as four more incidents brought out the yellow flags. But the brief bursts of green flag racing in the middle were enough for Hunter-Reay to grab the lead.
Manning recalled being determined not to lose his car on the dirt thrown up by Dixon's spin and was cautious on the restart because of it. But Hunter-Reay gambled on making it through and made a successful jump past him. Manning raced side-by-side in an attempt to re-take, but was unable to.
He said: "Shame on me because Ryan got a good run on me. I nearly got him back on the Bus Stop but I thought discretion was the better part of valour – two wide going in… I could see Tony licking his lips at me and Ryan touching wheels at 180 miles an hour. So I just slotted in there."
"Then there was another caution and I had AJ yelling in my ear to do the same to Ryan but I think he learned off of my restarts not to go too late."
"This one didn't land in our lap," said Hunter-Reay. "I had to stuff it down the inside of Darren and we had to hold off Tony. Then we just checked out at the end, and that was the best."
Despite losing the win, Manning was still praised by team owner AJ Foyt for doing a great job – just two races after the pair clashed over the Englishman's supposed lack of committment and conditioning when he retired exhausted with an ill-handling car.
The talk then, and before last week's race, was of the chances of Manning losing his drive mid-season. And an aggrieved Wheldon, who was hit by Manning and terminally damaged early on, was quick to allude to that in an interview during the race.
He said; "Manning droive into the back of one of my tyres. We were talking about professionalism in the last race and you can see why AJ Foyt is going to fire him."
That possibility looks considerably less likely than it did a week ago.
Explaining more fully what happened, Wheldon said: "On the first lap, I think Justin Wilson had a problem going up the hill. I had to move to the outside to avoid running into Justin and Marco Andretti. I don't know what Manning was quite thinking, but he just came out. Obviously there was nothing I could do because I was on the edge of the track. He cut my rear and bent the suspension."
Wilson did indeed have a problem. The Newman/Haas/Lanigan driver had hoped for a debut win starting from the front row, but instead he suffered handling problems and a gearbox leak that ended his race.
The man who had found himself staring up from thousands of paper tray covers and cups at burger bars across New York and Pennsylvania during the build-up to the race continued to make more fans as he was spotted signing autographs as he walked back to the pits through the crowd, his helmet and HANS device held by spectators as he scaled four-foot fences.
He said: "It's a very disappointing finish for the McDonald's team. We were happy to be back on a road course because we thought we could capitalise on some points and have a competitive run.
"We struggled in the first few laps, but after our first pit stop we sorted out the handling and were not sure why the car wasn't better, but then we had a gear box oil leak. It was spotted on the first pit stop.
"We tried to fix the problem then, and we went out without an idea of how much it had leaked, so we did an out lap and back in because there was low oil pressure. I think that damaged the gear box, because after a few laps it broke.
"The McDonald's car has been so fast all weekend, and we felt that we finally had a chance to do well. It's disappointing, but you just have to think forward to the next one. The season is too busy to look back; you can only look forward."
Somewhere out there too – for a while at least – was Jay Howard, making his return for Roth Racing. In a dismal weekend all round, boss Marty Roth did not compete, Howard qualified, raced and retired anonymously, and crew chief Larry Curry left the team.
Dixon still leads the championship with 370 points to 322 for Castroneves and 311 for Wheldon. Kanaan leaps to 304 and, in a re-ordering of the other Andretti Green drivers, Marco Andretti's fifth place in the race moved him up to fifth in the championship too.