Formula Two is gearing up this weekend for its first meeting since the death of Henry Surtees at Brands Hatch in July.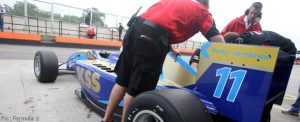 The 18-year-old, son of Formula One and motorcycling world champion John Surtees, was killed in a freak accident in round 8 after a wheel became detached from the car of colleague Jack Clarke and struck him on the head.
Rounds 9 and 10 of the series, which is in its inaugural season, are being held at Donington Park where a tribute to the young racer is planned as part of the Sunday schedule.
Also, some cars will be carrying messages saying "Remembering Henry" by their cockpits and, across the top of the rear-wing endplates, "Henry, we miss you" in the distinctive pale blue and yellow colours in which father and son both raced.
Taking place in support of the race is the HSCC Historic F2 Championship, which features cars that competed in Formula Two during the 1960s and 1970s.