Ireland's Adam Carroll, charging hard after finally solving problems with an ill-fitting seat, saw pole position snatched away from him in qualifying for A1GP's China sprint race.
He will start third after being pipped by last-gasp laps by Germany's Michael Ammermuller – excluded from the results of the previous race in Malaysia for ramming anything that moved – and championship-leading Neel Jani of Switzerland.
Team GBR's Oliver Jarvis could only manage fifth in the sprint qualifying, but will be on the front row for the feature race after setting the second-fastest time behind Jani. Carroll was 13th after a mysterious loss of speed.
Yorkshireman Adam Khan, driving for Pakistan, will start 21st of 22 in the sprint but performed better in the feature qualifying, setting the 17th fastest time.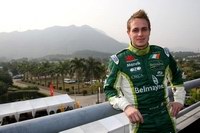 Carroll – still technically a rookie – had set the pace during Friday's practice sessions and was also fastest in Q1 for the sprint.
Irish team principal Mark Gallagher said: "Sprint qualifying went well and it is very satisfying to be in the top three – matching our best ever qualifying. There was a clear lack of speed in the feature qualifying which is going to be investigated as Adam felt sure he was much quicker."
Carroll himself added: "Its really strange. We went out and were P1 in qualifying one and the car felt great so I pushed hard and got a good lap time.
"We then put on the second set of new tyres and I felt I could improve but the grip just wasn't there. It was incredible, the car felt good but the lap time just wasn't there, I've never had that before.
"I thought I'd done a good lap but the time was terrible and none of the sets of tyres felt anything like the first ones."
He was, at least, happier after his team cracked a persistent problem with his seat: "We've had to make seven so far. I find it quite hard to get comfortable in the car but now I can really concentrate on driving the car rather than being in pain so it should make a lot of difference."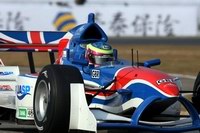 In contrast to Ireland, Team GBR had more to cheer about from the second session than the first. Oliver Jarvis made heavy weather of the sprint race qualifying before putting everything together in time to pick up second place in the feature.
He said: "A fairly difficult Q1 meant we were on the back foot for Q2, but I pushed hard and managed to qualify fifth despite the car not being quite right. There are some passing opportunities on the track so I will be doing my best to get a podium finish in the Sprint Race.
"We were much more confident going into Q3 and did a good job on old tyres which put us in a good spot. I managed to push a lot harder in Q4 getting a good lap out on new tyres to maintain our front row slot. The Feature race is a long race – tyre degradation and brake wear could be a factor – but we're at the front and I'll be doing my best to make amends for a non-scoring feature race in Sepang last time out."
The weekend also saw the debut of Danny Watts, driving in the rookie session. Despite testing a developmental car and advising Team Indonesia, it was his first drive for his national team – and he set an impressive fourth-fastest time.
He said: "Having only experienced the biofuel-powered development car for A1GP, for me it was a fantastic feeling to be a rookie driver for my own nation. Out on the circuit, the car felt easy to drive and was consistent. There was one small area where we had to find a little bit more with the car, but overall it was competitive. Ultimately I'm pleased that I was inside the top four on my first outing."
Team Pakistan have so far not proved to be front-runners, but with a single flying lap left in feature qualifying Adam Khan held the sixth-fastest time. But as other nations improved and he pushed hard to match them, he ran wide at the final corner and ended up 17th. His sprint session was dominated by technical adjustments following brake troubles on Friday, and by a puncture.
He said: "It's so close here, just one mistake can make a huge difference and put you down the order. I made a mistake and I'll learn from that, but it was the last chance to improve our grid slot and if you don't try and put everything into it, you will never succeed."
His race engineer, Andrew Miller, added: "Adam was pushing very hard out there today and unfortunately made a mistake on the final qualifying lap. He could have been about two tenths quicker, which would have put us in the top ten Adam feels comfortable in the car however, and I think we have a good chance of making up places tomorrow."
All photos / logos are used with permission of A1GP.