Ireland maintained seventh place in the A1GP championship after the two Zhuhai races, but were squeezed off the podium by China in the sprint race and surrendered their record of always scoring during a trouble-strewn feature race.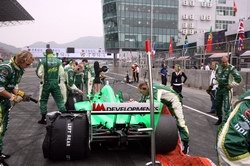 Adam Carroll began the sprint race from third on the grid and harried Switzerland's Neel Jani for second until the safety car came out for an incident further down the field.
When it went in again he was unable to stick with the Swiss or the eventual race winner, Michael Ammermüller of Germany, and on lap 10 home favourite CongFu Cheng made a sensational overtaking move stick to deny him the podium.
His fourth place kept up Ireland's title challenge, but the feature race was not so successful. Starting far back in 13th, Carroll was caught in a first lap incident that dumped him down to 16th behind the safety car.
Some hard racing and good pit work brought him up to eighth but the car was carrying a bent wishbone from the lap one incident and Carroll was forced to pit. With all hope of points for a top ten finish gone, the Irish mechanics turned round the car in a bid to set a fastest lap but just missed out to Team GBR. Carroll was eventually classified 16th, a full 18 laps down.
Team principal Mark Gallagher said: "It was a good result in the sprint race and a decent haul of points adds to continuing our consistent record. It's a shame Adam couldn't hold onto third place but the performance in the car was clearly not there.
"In the feature race, Adam didn't do anything other than drive very well and the team did a superb job but unfortunately circumstances outside our control ruined it for us. It's a shame but that happens in racing."
Carroll added: "Fourth place was a good points finish but the pace just wasn't there for the podium. China had a lot more pace and their car just arrived alongside me, I didn't even know he was there.
"When someone's so close behind you and you look in your mirrors you can't see anything. When someone has that much of an advantage on you you're pretty much a sitting duck and I couldn't even defend.
"It was unfortunate in the feature race because even though we started 13th, then got spun around, then stalled and then re-started we still got back into contention. We were definitely quick enough and after the first pit stops we were right behind those who ended fourth and fifth so it's just frustrating as it was a good opportunity to score some strong points."