Team Ireland will spend Christmas as A1GP championship leaders after Adam Carroll converted his Sepang feature race pole position into victory.
Portadown's Carroll became the first driver this season to record a second win, following his triumph in China. Filipe Albuquerque took second for Portugal, while Team USA's Marco Andretti went from villain to hero after his sprint race crash by taking third.
There was less to cheer about for Britain's Danny Watts and home driver Fairuz Fauzy.
Watts got away slowly from the the front row of the grid, dropping to fifth, and was forced to pit for repairs when he was cut up by the French car as he fought back.
He said: "I didn't get the clutch control quite right at the start and just got swallowed up early on. After that I got involved in a dog fight with Lebanon and we both lost out running wide, then to compound matters I got sandwiched in going into turn nine and touched the back of France, losing my nose.
"The only consolation was that we were quick and just missed out on fastest lap. But overall, it's been a bad day in the office."
Malaysia's Fauzy was on his way to a podium finish when his car radio picked up an instruction to pit that was intended for another driver. He pulled into the pits, baffling his team, and was 14th by the time he emerged. A determined fightback earned him a single point.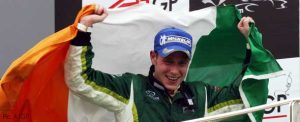 The Irish will now be hoping to keep an A1GP tradition alive – the winner of the Sepang feature race has gone on to win the championship in each of A1GP's three seasons.
Carroll said: "We were starting from pole position and I just concentrated on getting a good start, which allowed me to control the race from there. It's a long race, the car's heavy at the start so you just run as fast as you can and be smooth and it allowed us to open up quite a good gap.
"It's all team work though, it doesn't just come down to one person as everybody works extremely hard. It's been hard for the guys to be out here since Tuesday at the circuit in this heat and humidity, but they practised pit stops every night to make sure they did a good job.
"We planned to come here and try and come away leading the championship and we have. Winning the race is just a good bonus and I'm going to fight hard to keep it."
British team boss Katie Clements said: "Obviously a very disappointing day and not what we had hoped for after all the points we scored on China two weeks ago, but these weekends sometimes happen in racing. We now have a long break and we will use the time to regroup in preparation for getting our championship campaign back on track in New Zealand in January."
According to the team, Watts emerged from the pits after repairs to his car's nose a lap down but was able to challenge for the point awarded to the setter of the fastest lap. On lap 23 he was forced into another unscheduled trip into the pits after a problem with the brakes, which the team fixed and he was able to go back out six laps later. Another assault on the fastest lap point fell short, finishing second to Ireland.