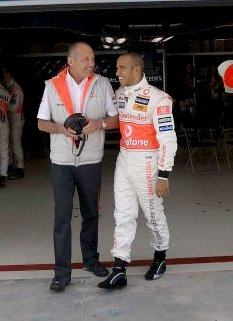 Ron Dennis, McLaren's team principal, says he feels "flattered and honoured" after he was awarded the Prince Philip Medal for his contribution to innovation and excellence in engineering.
And he added that, although his achievements at the helm of the team were being singled out for recognition, the award was really for everyone who works at McLaren.
Dennis received the award from HRH the Duke of Edinburgh at a ceremony held by The Royal Academy of Engineering at the Merchant Taylor's Hall in London on Monday June 9 – the 40th anniversary of McLaren's first Formula One win.
The Academy says of the award: "Ron Dennis has been a key player in the motorsports world, which is seen as one of the most successful engineering industries in the UK, both in Formula 1 and other divisions.
"Ron took over the McLaren Formula 1 team just 16 years after entering the sport as a teenager and has led the team to nine Driver's World Championships.
"His entrepreneurial skills have seen him capitalise on the cutting-edge technology required to compete at this level and he has created a group of high technology companies including McLaren Automotive and McLaren Electronic Systems."
Professor Keith Glover FREng added: "Ron Dennis has founded and led a world-leading engineering enterprise that is probably the most visible and compelling example of high performance engineering available.
"His exceptional contribution to engineering is not only seen in the motorsports domain but is also evident in the public perception of engineering."
Ron Dennis said: "When you look at the list of past winners, I feel flattered and honoured to have been selected for this award. In truth, though, it's an award for all who work at McLaren, not just for me."
In 1989 HRH The Prince Philip, Duke of Edinburgh, a Senior Fellow of The Royal Academy of Engineering, agreed to the commissioning of a gold medal to be 'awarded periodically to an engineer of any nationality who has made an exceptional contribution to engineering as a whole through practice, management or education', to be known as the Prince Philip Medal.