Liverpool saw their Superleague Formula challenge end with a last lap mechanical failure while cruising to victory in the weekend's first race at Jerez, leaving Beijing Guoan as series champions with a race to spare.
British pride was salvaged by Tottenham's Duncan Tappy, who put Spurs on the podium thanks to a post-race penalty on Corinthians, and James Walker, who subbed for Borussia Dortmund and won the second race of the day.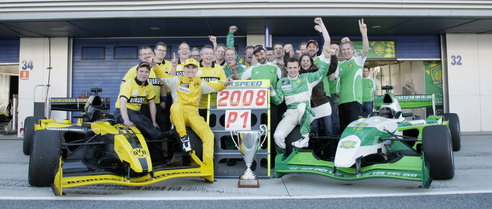 The Reds started the day with an outside chance of winning the football-themed series' first championship after Adrian Valles qualified on pole for the first race and Beijing rival Davide Rignon was consigned to the back row after spinning in qualifying.
Valles dominated the race and was set for the first of the two wins he needed when he suffered a fuel pressure problem as the final lap began. He faded to seventh place, while Rignon took a ninth place that guaranteed his club the title.
Robert Doornbos, so often unlucky this season, took the win for AC Milan ahead of fellow ex-F1 driver Antonio Pizzonia – but the Brazilian was given a post-race penalty for pitting at the wrong time and dropped from the podium. FC Porto's Tristan Gommendy was promoted to second and Tappy to third.
Ryan Dalziel was 15th for Rangers after suffering gearbox problems, but Englishman Craig Dolby rediscovered some of his form from earlier in the season by taking fourth for Belgian club Anderlecht.
Doornbos said: "You never wish somebody else has bad luck but after all the misfortune we have had, I'll take this one."
Tappy added: "I don't know if I actually expected to end up on the podium after starting ninth but I'll take it. I was having a good race and the team came on the radio and told me I was fourth – then as I was coming into the pits after the race they told me I was actually third. I was over the moon and it was really good to get a result for Tottenham again."
Rignon hopes his championship will be the start of big things for him: "It's very good to be the first Superleague champion and it has helped my career. I am only 22 and we will see. I hope that someone from Formula 1 can help me, watch me and hopefully I can try and test for Formula 1 now."
In race one Borussia Dortmund's British driver James Walker, whose previous best result was a fourth place when standing in as driver of the Rangers car, suffered a shock when his removable steering wheel came off in his hands during the parade lap. He had much better fortune in the second race.
Starting fifth based on his position in the previous race, he lost a place after the start but began to fight back after his pitstop. Eventually he challenged the leader, Alessandro Pier Guidi, so mercilessly that the Galatasaray driver spun out while defending.
Pizzonia and Rignon took the other two podium places, while both Valles and Tappy were forced out with gearbox problems. Dalziel took sixth for Rangers and Craig Dolby came eighth for Anderlecht.
Afterwards, the British drivers (and Liverpool's Valles) reflected on their race and their season: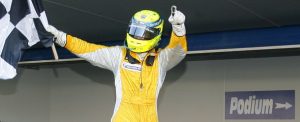 James Walker (Borussia Dortmund)

"When I scored fourth for Rangers at the Nurburgring it was a surprise but this was an even bigger surprise. I had never been here before and we missed practice and qualifying yesterday so to come away with a victory has done the end of my year a world of good. I am actually pretty lucky because on the out lap in race one this morning the steering wheel came off in my hand which gave me a fright and forced me to get it checked and I had to start from pit lane on cold tyres. I just stayed out of trouble in the first race and got some more miles under my belt and aimed at really getting stuck in during race two. We have come away with an excellent result."

Duncan Tappy (Tottenham Hotspur)

"The car was fast in race one, it was really really fast, so we brought it home in third and I am really happy with that. In the second race we had a gear selection problem and it got to the stage where I could not change up a gear. It got so bad that it would not work anyway so I had to bring it in. The season in general has been great and I have enjoyed every minute of it. It is so different. It has been a breath of fresh air for motorsport and I am hoping I am going to be involved in it again. I have proved that when the car is right we are on the money."

Ryan Dalziel (Rangers)

"Today was mixed, we had a good second race. We started near the front due to the gear box issue in the first race. We had good race pace and we made a bad call when we pitted and I think if we had pitted with everybody else we would have finished third or fourth. We lost a lot of time with old tyres and we went from third to seventh I think but it was a good result, sixth, and it was a good way to finish off the season. It has been a difficult season for us, and I kind of wish we could start again at round three. Credit goes to Superleague for getting this thing going and it has been impressive for its first year. I have been in a couple of series' in their debut season, most recently was Champ Cars, and they did not do anywhere near as good a job as this."

Adrian Valles (Liverpool FC)

"We showed the car was good this weekend but we had some problems. We deserved to win this championship and I hope I can come back next year and win it for Liverpool. In the race I did a good move to take PSV Eindhoven and everything was looking good and then suddenly we started to have problems down shifting A few laps later we had fuel problems again and I had to bring it in."

Craig Dolby (RSC Anderlecht)

"Galatasary dropped a lot of oil – I could see the line of oil and it just went round the corner. I must have caught a little bit of it and I spun which was a shame because up until then I was driving my socks off. I loved it, going round the outside of PSV in turn one, inside of Al Ain, I out braked Doornbos into turn six. I loved it and I never ever give up. I want to do well in both races and I want it to be exciting for people to watch. If someone had told me I was going to get these results today I would have taken them yesterday so I am over the moon in a way, and the car is back on some kind of form so I am happy with that. It is just a shame it is the end of the season."