Dan Wheldon has returned to the Brickyard, in a different set of wheels to the ones that won him this year's Indy 500, to take two feeder series machines for a spin around the iconic track.
Wheldon was showing off the cars of the Mazda Road to Indy, the IZOD IndyCar Series development programme, in an exhibition event for the media.
The three-stage programme includes Firestone Indy Lights, which has recently featured British drivers including Pippa Mann, Martin Plowman, James Winslow and Stefan Wilson, and the Star Mazda Championship, which counts Adam Christodoulou among its recent season winners.
The most junior series is known as the Cooper Tires presents the USF2000 National Championship powered by Mazda (and breathe…) – and that's the car Wheldon got to try first during his Brickyard visit. Last weekend all four series raced at the inaugural Baltimore Grand Prix.
According to organisers, he told the Andretti Autosport crew looking after him that he was only going to run two laps to warm up the car, but after 10 laps he had yet to return to the pitlane.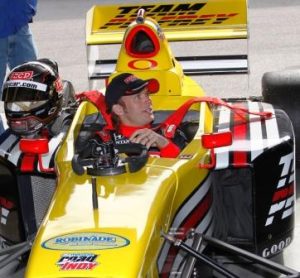 Speaking after he had finally been persuaded to pull over, the Brian Herta Autosport driver said: "For a couple of years there were so many different ladder systems. What I think is great now is that they are embracing the ladder series system.
"It's very definitive and you can bounce your way through the different levels."
Wheldon himself competed in the F2000 Series and Indy Lights before moving up to the IndyCar Series in 2002, and driving for top teams Chip Ganassi Racing and Andretti Green Racing, as well as a spell at Panther.
He took charge of the car usually driven by USF2000 competitor Spencer Pigot – the one most similar to what he drove in F2000 – and clocked a lap time of 1:31.49.
Team Pelfrey's No. 11 car, due be driven by current Star Mazda Championship contender Connor De Phillippi in his upcoming race, took to the track next and outraced Weldon's more powerful car with a time of 1:29.19.
Weldon then had a go in the current FIL car of Belardi Auto Racing's Anders Krohn and posted a lap time of 1:25.38. "I liked that. I liked that a lot," he commented afterwards.
"In the Indy Lights car, you start to feel the weight like the IndyCar. That's the most relevant feel that you get.
"It's that big, kind of heavy car. Those other two, they're training grounds and they're stepping stones, but you can see why the Indy Lights car is that last rung before the big times."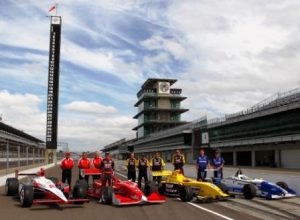 The development programme is designed so that, as drivers move through its stages, they encounter machinery that increases in weight, power and size.
Wheldon noted that each rung adds something vital to the driver's development: "It would be no good to go from the USF2000 car straight to the Indy Lights car.
"The Star Mazda car gives you the grounding of being able to adjust the traction control and settings, so it's a great middle ground between the other two."
"From a team owner's standpoint, it's very clear who is very good and who isn't because there's not tons of different ladder systems nearest to the top. For a driver, it's good, too.
"My personal opinion is when I have great teammates that brings the best out in me. When you have a ladder system, the best of the best are in the same series, and you know if you compete well and you win you're going to move up."
He said that he hoped the system would remain in place for a long time to come, as he feels that it works well.