Peugeot has won the 24 Hours of Le Mans at its third attempt with its current car, breaking the recent dominance of its major rival Audi and dashing the hopes of Britain's Aston Martin team.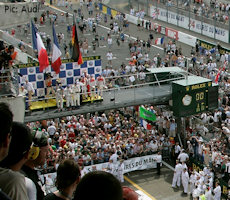 The French squad has worked for three years to get the drop on its German competitor, achieving two pole positions in the process and losing last year's race by a mere ten minutes after an epic battle with Audi.
It started on pole this year but looked set to lose all its advantages after just one hour, when it released Pedro Lamy's #7 car into the path of Pescarolo's #908 car, a customer Peugeot.
Drivers Franck Montagny, Stephane Sarrazin and Sebastien Bourdais battled manfully to bring their pole-sitting #8 car back towards the front of the pack following a period in the garage that looked to have destroyed their hopes.
In the end it was the #9 car driven by Marc Gene, Alex Wurz and David Brabham that took an assured victory after the team took the decision to prevent the two cars racing each other.
London-born Brabham, described in his post-race statement as "an honorary Brit" despite his Australian nationality, said: "I think it might take a few days for this to sink in. It's all quite unbelievable.
"I am delighted that we could take the win for the team who have done a magnificent job… It was a joy to drive with Marc (Gene) and Alex (Wurz). They are both very fast and very consistent drivers. We all got on very well and kept our focus together. It's been a privilege driving with them.
"This victory obviously means a lot to me… I have received an enormous amount of support from my family, friends and work colleagues, and that means such a lot to me. I would sincerely like to thank Peugeot Sport for inviting me to be a part of this fantastic programme and giving me the chance to win."
Last year's winners Allan McNish, Rinaldo Capello and Tom Kristensen were third in the Audi Sport Team Joest #1 car with the Aston driven by Thomas Enge, Jan Charouz and Stefan Mucke in fourth place as the highest-placed petrol-driven car.
Audi experienced a few dramas of its own throughout the course of the race, with a power steering failure causing Alexandre Premat to lose control of the #3 car during the third lap, sending him straight back to the garage for surgery that left the car two laps down.
Lucas Luhr crashed the team's #2 car in the Porsche Curves on Saturday evening due to a suspected mechanical failure, leaving the McNish-piloted #1 as the only realistic challenger.
Even that car was not enjoying Audi's characteristic reliability with McNish reporting handling problems and at one stage a loss of power that left the team waiting on a Peugeot error that never came.
McNish said after the race: "We can be totally satisfied with third place overall, even though we would have also preferred to have won and therefore continue Audi's fantastic and unbelievable winning streak at Le Mans.
"This series had to come to an end sooner or later, as is the case with all good things in life. We'd already had a very hard battle with Peugeot in the previous two years.
"This time they were better than us. Congratulations to Marc Gené, Alex Wurz and David Brabham. Everybody who knows Audi Sport and us knows that we will now regroup in order to return even stronger."
While Aston's hopes of challenging for the win were always optimistic in the face of the diesel-powered cars' superiority, the team can be extremely pleased with its fourth place.
Aston Martin Racing boss David Richards told Autosport: "We have to be very pleased. I look around the place here at some extraordinarily tired people, and the effort they've put in not just over the last 24 hours but over the last weeks to get the three cars to where they are.
"It's an extraordinary David and Goliath effort. The problem is when you have a performance disadvantage you tend to push things too hard, when you have a performance advantage you make things look easy."
However he was less happy at a stewards' decision to remove British driver Stuart Hall from the team's #009 car following a collision with Tim Greaves' Bruichladdich Bruneau Radical-Zytek in the race's fifth hour of the race.
Now reduced to two drivers, it was later wrecked when Harold Primat became another victim of the Porsche Curves in an accident shortly after dawn.
Richards said: "I think the stewards need to consider this in future years. When you take a driver out of a car you do put an extraordinary pressure on the other two drivers and the amount of work they have to do – especially if they're not professional drivers and it's early in the race.
"[Primat] had an alarm come on, a temperature alarm, and he smelled something in the car. Those things, put together with the tiredness, just distracted him and he spun. I'm sure if he'd have been fresh he would have coped with that situation.
"We had actually been discussing having the doctor see Harold when he got out of the car to see if we felt it was okay to go back in again. It's a lot of pressure on a chap to do that."
The #008 car driven by Anthony Davidson, Joss Verstappen and Darren Turner finished 13th after losing an hour to a gearbox problem early on.
But the British former F1 driver expressed satisfaction with his first Le Mans appearance since his 2003 debut: "Now I want to win it.
"This year was a step better than my last effort here! And it's only going to improve. I reckon and I've enjoyed it 90 per cent more than last time I did it.
"I don't know why, I think it's something to do with the car. It's fantastic to drive. Every time I drove the car it was fine so I didn't have any problems. It was a brilliant race. I'm knackered now but I loved every moment in the car."
He said he thought Aston had done a fantastic job to develop a car that could challenge the diesel entrants having only got the all-clear to race in December.
"And what could have possibly been, I know there's always a should have, would have, could have story from Le Mans, but in our car I think we had the genuine pace to really challenge that Audi for the last step on the podium.
"It's exactly what I said, if it had run like clockwork we'd have really challenged to be on the podium and that's unbelievable."
Strakka Racing, driven by Nick Leventis, Danny Watts and Peter Hardman finished 21st overall, 14th of the 15 LMP1 finishers.
The team described a series of mechanical niggles including a seized rear left wheel, alternator problems and electrical difficulties, as "being put through the mill."
A team statement said it had "demonstrated a professionalism and determination that does credit to the debutant team."
Of the other British contenders, the Creation Autosportif entry driven by Jamie Campbell-Walter finished 24th overall, the last of the 15 finishers in the LMP1 category while Johnny Kane's Speedy Racing Sebah came second in LMP2. Ginetta's Team LNT LMP1 entry failed to finish.
The British popularity contest winners were undoubtedly Drayson Racing, a team run by UK government minister and keen racer Lord Drayson – largely due to keeping fans constantly updated via Twitter.
The team was competing in the GT2 category and finished 33rd out of 34 finishers overall and 11th out of 12 in its class. Its car came to a dramatic stop on the course on lap 272 – but had completed a sufficient distance to be classified.
Check the complete results here >>