Oliver Jarvis failed to capitalise on a front row start in A1GP's Chinese adventure, but still moved Team GBR up the standings after scoring respectable fifth and sixth place finishes.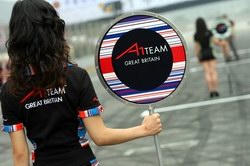 In the sprint race, Germany's Michael Ammermüller and Switzerland's Neel Jani led from the start to finish 1-2, with home nation China third and Britain sixth.
The longer feature race saw Jarvis, starting second, overtake pole-sitter Jani to lead the race – but pit stop troubles cost him any chance of victory and he had to settle for fifth – although he did take a consolation point for fastest lap. India's Narain Karthikeyan took the win.
Team principal Katie Clements admitted: "Today's results didn't do justice to our performance."
Jarvis lost a place to the Czech Republic's Tomas Enge at the start of the sprint race and was unable to make much forward progress thanks to a safety car period and, afterwards, the need to defend against Karthikeyan.
His early lead, impressively grabbed from Jani, evaporated in the pits when his rear wheels were spinning before the next set of tyres were on, causing damage that would later delay him in the second stop too.
Clements said: "Great Britain was the quickest car out there but unfortunately problems in the pit-stops denied us of a certain podium. However we have moved up the Championship table and will come back in 2008 to challenge the current top three."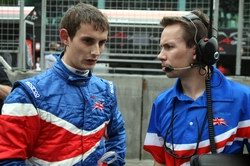 Jarvis said: "We lost a place at the start of the sprint race as I had to brake early because of the cars in front and Tomas Enge just managed to carry a little bit more speed around the outside.
"It was quite a difficult race to get close – every time I tried to make a move on Czech Republic I then had to defend from India behind. Its not exactly were we want to be but it was good to get some points on the board ahead of the feature race.
"The feature was an extremely disappointing result though. We had the pace and led the first stint, but the two pit stops didn't quite go our way. Its unfortunate but once again we showed that we were very quick and when the luck goes our way again we'll start winning some races."