Lewis Hamilton snatched pole position from his long-time friend Adrian Sutil in the dying seconds of qualifying at Monza, setting up an intriguing contest in the Italian Grand Prix tomorrow.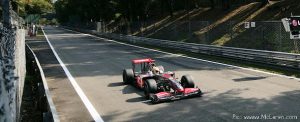 The KERS-equipped Hamilton, Kimi Raikkonen and Heikki Kovalainen fill three of the top four places and are likely to swamp Sutil at the start – but behind them the two Brawn GP cars are fuelled for a single-stop race, leaving Jenson Button and Rubens Barrichello openly optimistic about their prospects.
The high-speed, low downforce circuit exaggerated the differences between the teams' cars, with Toro Rosso, Williams and Toyota all struggling and BMW suffering a pair of engine failures in the second qualifying session.
By contast, Force India continued to fly as Sutil contested for pole and reserve driver Vitantonio Liuzzi established himself securely in the top 10, eventually qualifying seventh. The driver he replaced, Giancarlo Fisichella, struggled with the transition to the KERS-equipped Ferrari but still performed considerably better than Luca Badoer had at Valencia and Spa, taking 14th.
The Red Bulls of Mark Webber and Sebastian Vettel made it into the final qualification session but set the two slowest times, behind the KERS-equipped Fernando Alonso.
Hamilton, who was investigated for impeding Sebastien Buemi in the opening session but not punished, said: "I had a single shot at pole – and that's the most exhilarating and exciting feeling you can have as a racing driver.
"We didn't anticipate being this quick before the weekend, but I'm now in the best position to make the most of the start and to get out of the first corner cleanly. It's fantastic to have Adrian starting alongside me tomorrow and we both want a clean start and to enjoy the grand prix."
A happy Sutil said: "It is a great moment, a great deal. The whole weekend was a big success already. We did good work, and the car is amazing, really quick. It's unbelievable, it is so good for the team especially after the Spa success.
"We continued it here and just being competitive, it is such a different feeling in the car right now. You know you have a chance. It's a good feeling like the racing driver is back in me. I enjoyed every single moment."
Ross Brawn was content with his drivers' performances: "Rubens and Jenson drove extremely well in Q3 with our chosen one-stop strategy to secure fifth and sixth positions and the closeness of their lap times shows that they achieved everything possible from the car. We have the majority of the KERS cars just ahead of us so, provided our drivers get a good start, there is everything to play for in the race."
Button is also confident about his race chances: "I'm really happy with sixth position today. Rubens and I have been so close on lap times all weekend and he's ended up just fifteen-hundredths ahead of me which is the difference between getting your head down on the straights. I obviously didn't do it enough! We got the best out of the car today and it felt good on the heavy fuel load which is important."
Starting line-up
Lewis Hamilton, McLaren, 1:24.066 (Q3) 653.5kg
Adrian Sutil, Force India, 1:24.261 (Q3) 655kg
Kimi Raikkonen, Ferrari, 1:24.523 (Q3) 662kg
Heikki Kovalainen, McLaren, 1:24.845 (Q3) 683kg
Rubens Barrichello, Brawn, 1:25.015 (Q3) 688.5kg
Jenson Button, Brawn, 1:25.030 (Q3) 687kg
Vitantonio Liuzzi, Force India, 1:25.043 (Q3) 679.5kg
Fernando Alonso, Renault, 1:25.072 (Q3) 677.5kg
Sebastian Vettel, Red Bull, 1:25.180 (Q3) 682kg
Mark Webber, Red Bull, 1:25.314 (Q3) 683kg
Jarno Trulli, Toyota, 1:23.611 (Q2) 703kg
Romain Grosjean, Renault, 1:23.728 (Q2) 699.8kg
Robert Kubica, BMW-Sauber, 1:23.866 (Q2) 697.5kg
Giancarlo Fisichella, Ferrari, 1:23.901 (Q2) 690kg
Nick Heidfeld, BMW-Sauber, 1:24.275 (Q2) 697.5kg
Timo Glock, Toyota, 1:24.036 (Q1) 709.8kg
Kazuki Nakajima, Williams, 1:24.074 (Q1) 706.2kg
Nico Rosberg, Williams, 1:24.121 (Q1) 708.6kg
Sebastien Buemi, Toro Rosso, 1:24.220 (Q1) 706kg
Jaime Alguersuari, Toro Rosso, 1:24.951 (Q1) 706kg