David Coulthard will be joining the BBC next year to provide technical feedback during race weekends, according to a very well-informed source.
And that is? Wendy McKenzie, who runs the David Coulthard Museum, in his home town of Twynholm, Kurkcudbrightshire, Scotland.
The museum, originally started by DC's father Duncan, then taken over by family friend Wendy, has an incredible collection of memorabilia going right back to his karting days.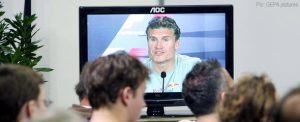 Exhibits include an extensive display of his trophies and the recently-acquired Red Bull RB2 car with which Coulthard reached the podium at Monaco.
It also has a website that aims to act as an online gathering place for fans and a source of information on the driver.
So, we reckon if anyone knows what's happening next, it's this website.
The following quote appears on the site's front page:
"The Brazilian Grand Prix is David's last race in competitive Formula One Racing. Of course we'll still see that famous Scottish saltire helmet testing Red Bull Racing's RB5 throughout winter testing but next year when the lights go out in Melbourne we're sure F1 will miss one of it's more colourful and respected characters on that grid.

Still it's not entirely doom and gloom. David will be taking up his post with the BBC to provide technical feedback during race weekends and of course with Lewis Hamilton we still have a great British driver to support."
That's good enough for us! And it just goes to show how the Internet age has made it that much harder to manage news.
This reminds us of how news of fellow Scot Ryan Dalziel's Superleague Formula drive leaked out – not through confirmation from his Glasgow Rangers team or the series management, but via a mate on his Bebo page.