Oliver Turvey took a pair of podiums and James Walker moved up to second in the Formula Renault 3.5 Series championship as both home drivers put on a show for fans at the World Series by Renault's visit to Silverstone.
Walker topped both testing sessions, with Turvey behind him in the first one, and the pair also took second and fourth in qualifying, bracketing Brendon Hartley and behind Charles Pic.
Race one, run on a reverse grid, was won by series leader Marcos Martinez – his fourth win of the year. Fairuz Fauzy of Malaysia took second ahead of Turvey and Walker, Bertrand Baguette surrending a potential podium by running onto the grass as Fauzy overtook him.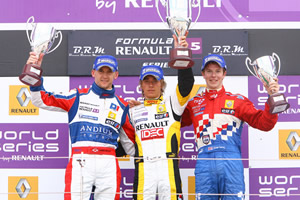 The second race saw Pic win confidently from pole, while Hartley's chances were ended by a penalty for speeding in the pitlane. The decision also ended the New Zealander's hopes of out-performing his successor as Red Bull F1 reserve driver, Jaime Alguersuari, across the whole weekend having beaten him in the first race.
Hartley's demise allowed Walker to take second and Turvey third. The race one victory helped Martinez retain the series lead at the end of the weekend, six points ahead of Walker who overtook Baguette for second.
Martinez, as series leader coming into Silverstone, also earned the opportunity to drive a demonstration in the Renault F1 R28. He said: "This is a fantastic experience, winning in Formula Renault 3.5 Series then driving an F1, just incredible."
Also performing some demonstration laps, this time in a regular series car, was former F1 champion Nigel Mansell, who practised on Friday in his son Greg's car before his demo on Sunday.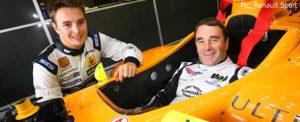 He said: "I have to thank Greg for allowing me to get in his car because he was very concerned with me driving it before qualifying and you all here can all be my witness that the car is okay; no spins, no nothing. To be reacquainted with an open wheeler which is close to Formula One was very nice. There is a very good feeling to the car and it was a great experience.
"It was a little bit tight in the car and the biggest problem I had on the first lap was I frightened myself going into Becketts because I went to brake and as I normally do, I put my foot over and as I pushed the pedal I accelerated because I used my right foot and not my left. Fortunately I was going slowly enough to stop but to get used to left foot braking and a number of things in the car is a good challenge.
"I think the World Series is one of the best series in racing because the car is very good and the driver has to push the car."
Back at the racing, Walker had hoped for a victory but was still pleased with the outcome of the weekend: "After qualifying I was disappointed not to be on pole position, but in the end I'm very pleased today. This is a good weekend, I go second in the overall standings, that's perfect. The end of the race was difficult because Oliver Turvey came back really strong. I managed to hold him off, but it was very complicated."
Turvey added: "Two podiums, in front of such a big crowd, it's perfect. James didn't make an error, so impossible to get past him. I'm not thinking about the title, it's my first season, I'm here to learn. I'm savouring every result and we'll see what happens."
Championship standings
Marcos Martínez, 73
James Walker, 67
Bertrand Baguette, 65
Oliver Turvey, 52
Charles Pic, 44
Fairuz Fauzy, 41
Miguel Molina, 38
Jaime Alguersuari, 30
Chris van der Drift, 29
Marco Barba, 28
Adrian Zaugg, 27
Pasquale di Sabatino, 25
Daniil Move, 20
Sten Pentus, 19
Adrián Vallés, 19
Omar Leal, 10
Brendon Hartley, 10
Michael Herck, 7
Greg Mansell, 3
Jon Lancaster, 3
Stefano Coletti, 1
John Martin, 1
Guillaume Moreau, 1
Mihai Marinescu, 0
Frankie Provenzano, 0
Federico Leo, 0
Tobias Hegewald, 0
Harald Schlegelmilch, 0
Anton Nebylitskiy, 0
Filip Salaquarda, 0
Max Chilton, 0
Edoardo Mortara, 0
Alexandre Marsoin, 0
Jules Bianchi, 0