Britain's Riki Christodoulou has denied Renger van der Zande a shutout by winning round 10 of the British Formula 3 International championship at Snetterton, earning his maiden victory in the process.
Hitech's van der Zande looked to have the weekend completely under control with two pole positions followed by a commanding win in the round 9 race.
But Christodoulou, ending a run of somewhat erratic starts, staged a great getaway then led from lap three to ensure he was first to the chequered flag.
During the weekend the series announced that it is planning to increase its races next season by running a 10-meeting championship with three rounds per meeting instead of the current two.
Its organisers say the plan is to provide young drivers with the maximum possible race experience after consultation with F3 teams' organisation FOTA.
Spokesman Peter Briggs said: "We believe that expanding the number of races in the championship to 30 is a logical extension of the policies which have helped the championship become the pre-eminent 'university of motor sport'.
"The cars are reliable and FIA safety-approved, there is a large but controlled testing mileage available, and now three race starts every weekend. British F3 is first and foremost a drivers' series, and the best training there is."
Here's how the weekend unfolded:
Qualifying: Van der Zande shut-out makes it four in a row for Hitech
Renger van der Zande narrowly topped the timesheets at Snetterton for round 9 qualifying, taking his second pole position of the season and the third successive pole for the Hitech team.
Brits Henry Arundel and Max Chilton narrowly missed out on the top spot, with eight-thousandths of a second separating the top three drivers and the top 15 separated by just nine-tenths.
Riki Christodoulou was sixth, Jay Bridger ninth and Fortec driver Daniel McKenzie impressed by filling out the top ten, a time that was good enough for the National Class pole by a tenth of a second.
In round 10 qualifying Van der Zande put in a best lap of 1:02.098s, slightly slower than his morning session race, but easily fast enough to secure a second pole of the day and the Hitech team's fourth pole in a row.
His Austrian team-mate Walter Grubmuller was due to share the front row with him. Christodoulou went third fastest for the Fortec team, just ahead of Chilton. Wayne Boyd was seventh and Henry Arundel just outside the top 10.
Round 9 van der Zande capitalises on qualifying performance
Van der Zande staged a racing masterclass in the first of the weekend's events, leading from pole to flag having secured a lead of a second within the first couple of laps.
After that he was beyond challenge, leaving the rest of the field competing for second place. It looked like Henry Arundel would secure it until lap 20, when his Carlin Motorsport Dallara suffered a gear selection issue.
That delayed him long enough to allow team-mate and championship leader Daniel Ricciardo through. He said afterwards: "I was struggling with the gears and Daniel made it through, but once I had worked out what the problem was I was able to drive around it and hang on to third."
Van der Zande crossed the line 3.8 seconds clear of Ricciardo, who was in turn comfortably ahead of Arundel. Grubmuller held fourth place throughout, shadowed all the way by Christodoulou, Chilton and Bridger.
Daniel McKenzie slotted his Fortec Dallara into eighth on the opening lap and held on all the way to the flag to collect his sixth National Class victory of the season.
Round 10: Christodoulou takes maiden win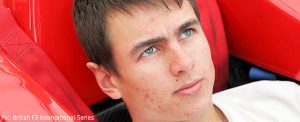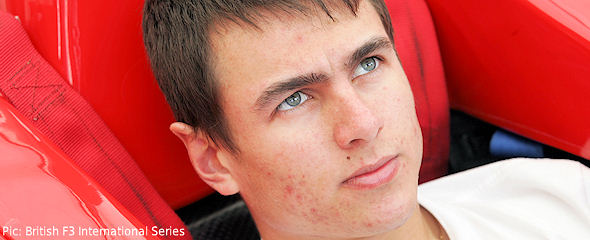 It looked like van der Zande was all set for a shut-out – until another driver, Riki Christodoulou, produced the kind of commanding performance in round ten that had previously been the Dutchman' preserve.
The Fortec driver got an uncharacteristically good start from third on the grid to pass van der Zande who came close to stalling on pole as his team-mate Grubmuller took the lead.
But Christodoulou passed the Austrian on the third lap, getting clear of a fight between Grubmuller and Carlin's Ricciardo as he did so, a contest that the Carlin driver won.
A series of quick laps from the British driver secured his lead and, apart from a period when he needed to get clear of the backmarkers, he was home for a clean victory. Ricciardo was second and Grubmuller third.
Van der Zande could do no better than fourth with T-sport Adriano Buzaid and Wayne Boyd fifth and sixth. Carlin's Max Chilton, another first-lap loser, was seventh despite a brave attempt to make up places, followed by team-mate Henry Arundel in eighth and Litespeed's Jay Bridger in ninth.
Christodoulou's Fortec team-mate Victor Garcia rounded out the top ten and National honours went to T-sport's Gabriel Dias in 11th.
Standings (points-scorers only):
Daniel Ricciardo, Carlin: 119 points
Walter Grubmüller, Hitech: 96 points
Renger van der Zande, Hitech: 85 points
Riki Christodoulou, Fortec: 81 points
Nick Tandy, JTR: 68 points
Marcus Ericsson, Raikkonen Robertson: 65 points
Max Chilton, Carlin: 64 points
Daisuke Nakajima, Raikkonen Robertson: 59 points
Adriano Buzaid, T-Sport: 56 points
Henry Arundel, Carlin: 46 points
Carlos Huertas, Raikkonen Robertson: 18 points
Wayne Boyd, T-Sport: 15 points
Víctor García, T-Sport: 13 points
Robert Wickens, Carlin: 12 points
Jay Bridger, Litespeed: 10 points
Oliver Oakes, Carlin: 7 points
Hywel Lloyd, CF Racing: 6 points
You can get a complete set of stats, standings and news at the series website here >>