Justin Wilson held off the big names of Ganassi Racing and Team Penske to score a dominant victory at Watkins Glen, handing team boss Dale Coyne his first triumph in 25 years of top flight racing.
The 30-year-old from Sheffield had qualified second for the Camping World Grand Prix at The Glen behind Penske's Ryan Briscoe but overtook the Australian on lap three and never looked back, leading for the rest of the race apart from the pitstops.
"It feels fantastic," he said after handing Coyne his first win in 558 starts. "This is the most important win in my career – winning with Dale and showing what we can do. It's a fantastic feeling.
"It was just the fact that we've just worked at this all year, and we've put a lot of effort into the road courses. To dominate like we did is fantastic.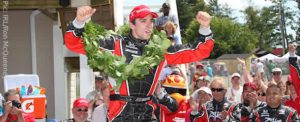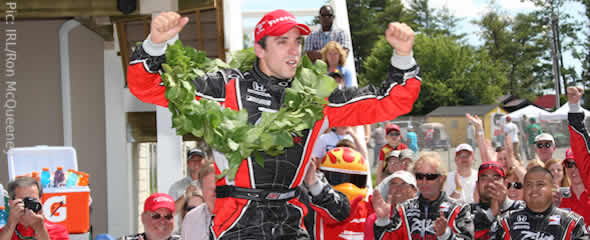 "I've got to thank Dale for putting me into the car – I didn't think I would be driving [this year], and here we are in Victory Lane. It feels great.
"I was grinning from ear to ear on the last lap. It just felt so good to do that for Dale. We've been trying to build this team up, and we're coming."
Wilson's moment of greatest danger came on the lap 53 restart following Hideki Mutoh's crash, with Briscoe on his heels – exactly the scenario that had seen him lose a potential victory in the first race of the season on the streets of St Petersburg in Florida.
But unlike that occasion the Yorkshireman got a jump on the rest of the field and accelerated into the distance, leaving Briscoe, Scott Dixon and Helio Castroneves in his wake.
The victory was built on his superb qualifying performance, which put him on the front row while preserving one more set of the faster choice of tyres than the rest of the field. He was able to use these to pull away from Briscoe at the end.
"They were fantastic. A little bit more grip and a little bit more confidence," he said. "It was a nice feeling to have those underneath me. I knew that Ryan didn't have them and I did. And as soon as that yellow came out, we didn't need to save fuel again, we could run flat out to the end."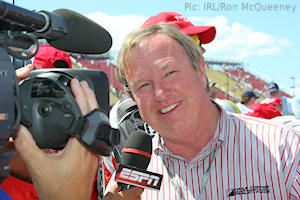 Briscoe spoke for almost the entire IRL pitlane in being pleased to see a popular driver and team owner take the win: "Big congrats to Dale Coyne and the whole team and Justin.
"We had to work hard to come through the field. We had some great pit stops and it was pretty exciting at the end with everybody on the softer compound. I had my hands full defending them."
His boss Roger Penske added: "Congratulations to Dale on his first IndyCar win. Dale has been a great friend and a great competitor for many years, and we are very happy for him and his team. They worked very hard for this. I thought Justin Wilson drove a great race, and he certainly deserved the victory today."
And Ganassi managing director Mike Hull said: "We're absolutely ecstatic for Dale Coyne winning the race. He stepped up to the plate with his program this year, and he's gotten results. That's an owner that's taken the initiative to make it happen, and those are the kind of owners that make a difference in motor racing."
Coyne said: "It took too long. We knew Justin was a strong road racer. We almost showed it at St. Pete and we showed it here."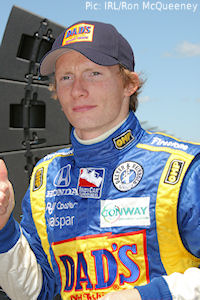 Behind the leaders the under-fire rookie Mike Conway, whose season has been punctuated by crashes and errors, was driving his heart out in fifth place, having run in second for much of the race until losing out in the pitstops. He was caught on the final corner of the race by Marco Andretti and finished sixth – still by far his strongest performance of the year.
"It was a great result for everybody, we ran strong all day," he said.
"It was a shame that we couldn't quite get the result in the end. It was a case of me coming out of the box [in the pits] and I lost a couple of seconds and gave me the gap to Justin Wilson, and everyone came in between us.
"We were running top five and saving fuel. I struggled with the balance in the end, but we still brought the Dad's Root Beer car home in sixth place.
"I just have to thank the crew; they did a great job all weekend, and I'm looking forward to Toronto."
Missing from the front-runners was Dario Franchitti, who had gone into the race as series leader but spun on lap 23 trying to avoid a collision between Mario Moraes and Ed Carpenter for which Moraes was later penalised.
The Scot rejoined the race but finished 15th, surrendering the title lead to Dixon. "The rear end just stepped out on me unexpectedly and we ended up in the gravel trap," he said.
Dan Wheldon was another driver who suffered in the pit stops, dropping from third to eventually finish 10th. He said: "Unfortunately it might have just been one of those days for the National Guard Panther Racing team. The car was very competitive, we just had a little bit of a slower pit stop on the last stop. But that happens.
"With our tyre choice today we just got unlucky – when our red tyres were on there were some sporadic yellows and when we had the blacks on it stayed green. It was just one of those days, but everybody at Panther continues to work very hard and did a good job this weekend, and we'll bounce back in Toronto."
Race order
Justin Wilson, Dale Coyne
Ryan Briscoe, Team Penske
Scott Dixon, Target Chip Ganassi
Helio Castroneves, Team Penske
Marco Andretti, Andretti Green
Mike Conway, Dreyer & Reinbold
EJ Viso, HVM
Tony Kanaan, Andretti Green
Robert Doornbos, Newman/Haas/Lanigan
Dan Wheldon, Panther
Danica Patrick, Andretti Green
Raphael Matos, Luczo Dragon
Graham Rahal, Newman/Haas/Lanigan
Mario Moraes, KV
Dario Franchitti, Target Chip Ganassi
Ed Carpenter, Vision
Milka Duno, Dreyer & Reinbold
Richard Antinucci, 3G
Hideki Mutoh, Andretti Green
Paul Tracy, KV
Ryan Hunter-Reay, Foyt