What have racing fans found to talk about since the end of the season? The on-track F1 action may have finished at the Abu Dhabi finale on November 1, but the twists and turns kept on coming, bringing with them new topics of conversation.
With Jenson Button's move to McLaren, Mercedes' decision to take over Brawn GP (meaning the former privateer team will have perhaps the shortest winning streak in F1 history) and Michael Schumacher's shock return to top-flight racing at the age of 41, it's almost as if the season never came to an end.
It's been a bit calmer in most other series – but, while things are slightly quieter, we'd though we'd take a look at what's been making headlines among motorsports bloggers in the last two months of 2009.
To do this, we used IceRocket, a tool which allows you to plot the influence of up to five search terms against each other, and view the results as pretty graphs and tables. Find out more, or try it yourself, here.
And this is how we got on. Below you will find results for F1 drivers, F1 teams, F1 newcomers and racing series excluding F1. Happy reading!
And, don't forget, you can visit our full 2009 F1 season review here.
F1 drivers: Schumacher and Alonso creating most buzz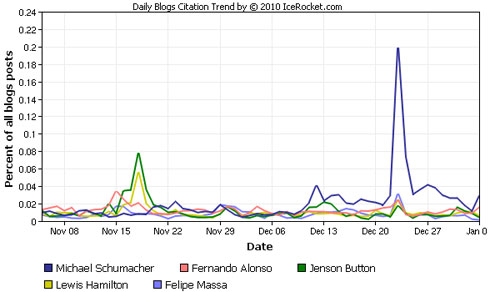 As the graph above shows, the topic of the off-season has undoubtedly been Michael Schumacher's prospective return to the cockpit of a F1 car. The idea that he could come back to the sport was first raised after Felipe Massa's mid-season accident saw him pencilled in for a Ferrari drive. But, when that failed to materialise, his old mate Ross Brawn got on the phone and raised the seemingly incredible possibility of a return with Mercedes instead.
It took a long time for the F1 establishment to take the idea seriously. But somehow it just wouldn't die. And, as it gathered momentum, we realised that – neck and back injuries permitting – Schumi really would be breaking his decade-long alliance with the Scuderia to return to top-flight racing at the age of 41. You can see very clearly the massive spike of interest when the announcement was made.
Jenson Button's shock move from Brawn GP to McLaren was easily the most buzz-worthy topic in mid-November, after it became clear that his long-running negotiations to renew his contract with his existing team were going nowhere. The move, completed on November 18, was greeted with disbelief by many fans, who could not understand why he would choose to leave Brawn GP and did not like his chances when going head-to-head with McLaren's long-term prospect Lewis Hamilton.
Speaking of the 2008 World Champion, it's fair to say his appearances on the graph seem to have less to do with his own actions than with reflected buzz from his new team-mate and his new adversary Schumacher – see how peaks in his light-green line coincide with peaks in coverage for those drivers.
A steady rate of interest in Fernando Alonso's debut with Ferrari peaked on November 15 when he was sitting on the rear of a Ferrari California driven into the gravel trap in front of a grandstand full of fans at the Valencia circuit by Luca di Montezemolo. Another peak seems to coincide with di Montezemolo's statement in early December that Alonso would be better for the team than predecessor Kimi Raikkonen.
But Alonso, like Hamilton and Nico Rosberg (see below) has also benefited from the buzz caused by Schumacher's return as fans wonder what it will be like to see two multiple world champions face off against each other. Steady interest in Massa's recovery from his life-threatening accident at the Hungarian Grand Prix, plus speculation about how he will fare as Alonso's team-mate, have both kept him fresh in bloggers' minds.
Here's the data in a table:

IceRocket allows us to compare a maximum of five values – but bubbling just under the leading drivers were Nico Rosberg, the subject of 2,331 articles in this period, an average of nearly 39 per day, and Kimi Raikkonen, the subject of 2,045 articles, an average of 34 per day. The next-most popular driver was Rubens Barrichello with 1,387 mentions, followed by Vettel, Kubica and Webber all just crossing the 1,000 barrier.
F1 teams: Brawn/Mercedes unseats Ferrari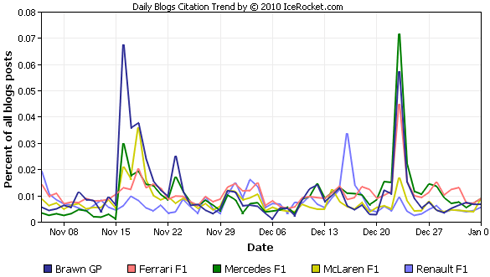 It's a given that Ferrari is the most popular F1 team. The overriding reason given for the wide latitude given to that outfit by the FIA has always been that its vast popularity means the sport needs it very badly. This makes the fact that Brawn GP, winner of the 2009 drivers' and constructors' championship has achieved an immense feat by knocking it off its perch as the most buzz-worthy F1 squad. Certainly this is not the result that we were expecting to see.
It's all the more incredible if you take into account that Mercedes F1, the squad that Brawn GP is set to become next year, is generating almost as much buzz as Ferrari on its own. Of course, both are benefiting mightily from the Schumacher effect while McLaren fielding two world champions and ongoing discussions about the future of Renault provoked plenty of discussion about those two squads.
Clear spikes on this graph include the announcement of Jenson Button's new drive and of Schumacher's contract with Mercedes, provisionally resting on his doctors' say-so. Renault briefly became the most talked-about team in the middle of this period when it announced the sale of a large stake to an external investor.
Here's the data in a table:

These teams were in a buzz-worthy league of their own, being the only ones to cross the hurdle of 2,000 blog mentions. However, Toyota's F1 exit and the team's and drivers' futures continued to generate considerable discussion, with 1,874 blog mentions during this period, an average of 31 articles a day. Best of the rest was Lotus F1, with 1,682 mentions, or 22 articles a day. Williams clocked up 1,365 mentions, or nearly 23 articles a day while Sauber clocked up 1,337 mentions or an average of 22 articles a day. Just behind them were Toro Rosso, followed by Red Bull and USF1.
F1 teams: Who are the most talked-about new kids on the block?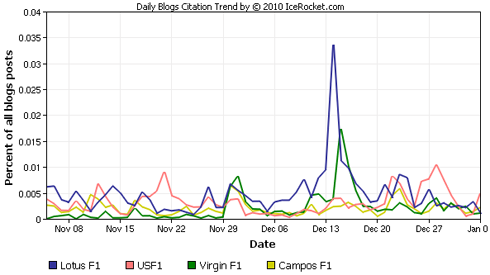 Here's what happens when you compare the buzz surrounding the four teams making their debut on the F1 grid next year. The big spike in the dark-blue Lotus F1 line coincides with the announcement that established drivers Jarno Trulli and Heikki Kovalainen would be the first to appear for the Norfolk-based squad. On December 16 Lotus principal Tony Fernandes and Virgin F1 backer Sir Richard Branson made a bet that the losing team's boss should work on the winner's airline for a day dressed as a stewardess.
While you would not necessarily expect these teams to be generating anything like the levels of interest commanded by the top existing squads, Lotus have clearly made the biggest impression. The straightforwardness of the USF1 concept and its appeal to American fans might also be visible, or the buzz might be less positive. However Sir Richard definitely has a bit of work to do on the team's profile. Only Campos is doing worse than Virgin, being forced to fight rumours that it will not have the cash to make the starting grid, and clearly has considerable work of its own to increase its public profile.
Here's the data in a table:

Series: F1 and GP2 dominate
Making a comparison of series at this time of year is a tricky task. Representing it visually is even trickier. F1 dominates to such a degree that, by plotting it on the same graph as any other series, all meaningful information is lost. This is made worse by the fact that, while most forms of open-wheel racing have gone into hibernation for the winter, a delayed driver market seasoned by a generous helping of politics has kept the F1 circus well and truly in town.
To demonstrate the discrepancy, we can tell you that in the period since November 1 Icerocket records Formula One as notching up nearly 44,000 blog mentions, an average of more than 700 a day. And that's before we start searching on alternative terms such as F1, which would bring in about half as many again. And this isn't really telling us anything we couldn't observe for ourselves.
So, with F1 removed, what can we learn about bloggers' interest in alternative open-wheel series? Well, for a start, that it's hard to write blog articles when nothing much is happening. Still, some brave souls are trying, as the graph below demonstrates: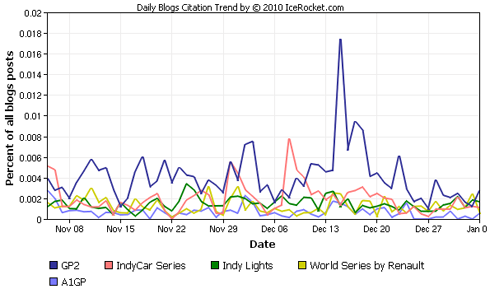 The F1 driver market is doubtless creating buzz for GP2 with recent graduates Nico Hulkenberg, Kamui Kobayashi, Lucas di Grassi and Bruno Senna among those installed in top-flight drives as well as a keenly-contested driver market of its own. Indeed, confirmation of di Grassi plus Parente and Luis Razia as Virgin's race and reserve drivers may have been responsible for the December 15 spike, as well as the issue of the series' new race calendar around that time.
As far as the IndyCar Series is concerned, early in December Andretti Autosport driver Danica Patrick caused a stir in the blogosphere by announcing that she would be contesting a number of race in NASCAR's junior Nationwide Series. Another long-running story has been the viability of the Brazilian date that will kick off the 2010 calendar, and which may also have fuelled off-season interest.
Here's the data in a table:

Curiosity continues about the future of the seemingly-defunct and bankrupt A1GP which, like a pet which wanders out of the house one day and never returns, has received no proper send-off and offers fans no closure. Outside the top five, football-themed Superleague Formula kept its end up with 211 blog mentions, an average of nearly four a day.
* A note about methodology: F2 gave a very good showing in this category, proving nearly twice as popular as GP2. But given that champion Andy Soucek has not yet nailed down an F1 seat, and that its winter testing only hit the beginning of this period, it is very hard to see how this is anything other than a false result. We have been unable to find a way of getting at a more accurate figure and so have excluded it.