This year's Festival of Speed will have an Italian theme, according to organisers, with the July weekend event set to focus on that country's passion for motorsport.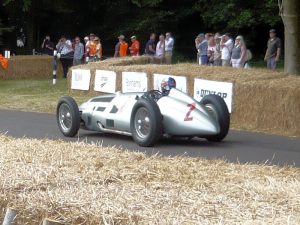 Highlighting in particular the centenary of the Alfa Romeo marque, 'Viva Veloce!' will celebrate all drivers and riders on two wheels and four who have taken part with such style in international motorsport.
The 2010 event will also boast a new feature – a Thursday car manufacturer preview day that extends the festival to four days
Called the Moving Motor Show, it is designed to satisfy demand for an annual British motor show in the absence this year of the cancelled London International Motor Show.
It will target new car buyers who want to see the latest automotive models on display as well as trying them out on an evaluation route that includes the famous hillclimb course.
Organisers say: "The Goodwood Moving Motor Show offers a fantastic opportunity for manufacturers to showcase their products in a stunning setting and dynamic environment."
Returning to the world of motorsport, it's not only Italy set to be represented under the 'Viva Veloce!' banner.
British Formula One world champions Lewis Hamilton and Jenson Button have confirmed that they will be attending and helping to celebrate 60 years of the Formula One World Championship.
Six Formula One teams have confirmed their attendance and it is pretty certain that Hamilton and Button will not be the only F1 stars in attendance.
Fans can also look forward to appearances from star riders and drivers including Sebastian Loeb, Ken Block, Giacomo Agosti and Leon Haslam.
Other events celebrating anniversaries this year, and set to be included, are the Carrera Panamericana road race and the RAC Rally.
Also on display to tempt fans will be a collection of customised cars owned by some of the world's leading guitarists including Eric Clapton, Jeff Beck, ZZ Top's Billy Gibbons and Jimmy Vaughan – along with each musician's signature guitar and, if all goes to plan, each guitarist too.
The Cricket Pitch area is set to display around 20 cars featuring in pop songs, including Wilson Pickett's Mustang Sally and Prince's Little Red Corvette.
Bands are set to perform the songs represented by each of the 20 cars on a live stage next to the display.
Just so long as we can still hear the roar of the engines…
To find out more about the Festival of Speed, including event details and booking information, visit the Goodwood website here.