Formula One risks being caught up by its rivals in the multi-million pound sports marketing battle and could learn a thing or two from the commercial success of NASCAR, according to one expert working in the field.
But Shell's Stuart Humm, who is responsible for overseeing the commercial aspects of the fuel giant's technical partnership with Ferrari, believes that F1 remains well ahead in many key areas – and also has a strong future.
Speaking exclusively to Brits on Pole he said that the challenge for the sport in years to come will be to reinvent itself and evolve in order to continue to offer attractive options to corporate marketers.
He said: "NASCAR is incredibly popular in the US and does many things which I believe F1 could look to for inspiration and commercial best practices. Shell has recognised the technical value of NASCAR for many years with our involvement in the Richard Childress Racing Team.
"NASCAR has a different approach to Formula One, but you see the numbers of fans and sponsors engaged in the sport and it is clear that they are doing something right."
American racing often wins praise for being more accessible to fans and having a friendlier, less exclusive atmosphere than Formula One and its immediate feeder series.
Drivers work very closely with sponsors on promotional activities and often receive a more sustainable financial package, which means many Brits are attracted to cross the Atlantic to pursue careers in the US.
Despite stiff competition from rival race series, Humm believes that the top-flight open-wheel championship remains one of the best opportunities on offer for the right brand.
"The challenge for Formula One is that many of its competitor sponsorship properties were often two steps behind in their ability to offer comparable sponsorship platforms in terms of quality and reach.
"This has changed and there are now a number of alternative routes for brands offering comparable packages often at a lower ticket price. However the Formula One brand is as strong as ever and while in some areas it will need to reinvent itself and evolve, in others it remains a step or two ahead of the game.
"While there is an onus on the sport of Formula One to meet this challenge, ultimately it is down to the sponsor to make the right choice. Formula One is not the right property for every brand."
Humm, who has previously worked in driver management, also knows a thing or two about how racers need to market themselves in the current climate, whether they are already established or new to the sport.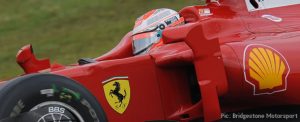 He told us: "I think that drivers at all levels need to realise that their jobs will inevitably stretch beyond simply driving the car.
"Without companies investing in their sport and their careers they won't have the opportunity to drive, so working with sponsors and fulfilling personal and team contractual arrangements will be part of the job description.
"Like in any sport, those drivers who have the whole package are the ones that teams are more likely to want to work with."
He said that a driver who can build strong relationships and work hard for sponsors will inevitably enjoy a bigger chance of continued investment the following year.
"Try to enjoy working with sponsors and where possible show an interest and learn as much as you can about their brand and their business.
"If you can hold a conversation with a sponsor about their business and the industry that they work in and when working on their behalf relate some sort of reference to the brand or business that they are promoting you just might find that sponsor wants to invest more in you and your career in the future."
• Read our full Q&A with Stuart Humm here, with much more on why some brands work in F1 and some don't, what Shell gains from its tie-ins with Ferrari, Ducati and Audi, and what ranks as his most memorable moment in Formula One.