Rob Tarlton, a 21-year-old aerospace engineering student from the University of Illinois, USA, flew over to Britain last week with his twin brother Tom. Both were finalists in the Philips Driving Academy competition to drive a Williams F1 car, and Rob progressed through a day at Palmer Sport and a session in the Williams simulator to become the overall winner.
We had the chance to chat with him during his prize day, at the point when he had been out in a F3 car but was yet to attempt his F1 drive. Here's what he had to say.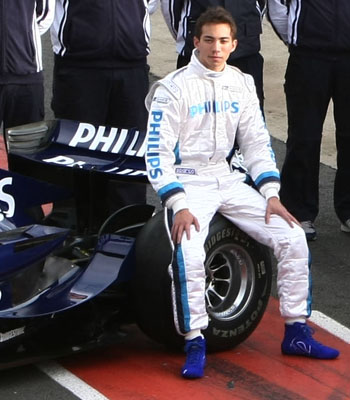 BritsOnPole: Tell us how you arrived here.
Rob Tarlton: For a long time I have been a big fan of Formula One and, at the beginning of the summer, one of my friends saw this competition and let my brother and I know that Philips was sponsoring a competition in which you could get a chance to drive a Williams F1 car. After that I looked at what it took and I entered the competition and tried my best.
BoP: Did you have several goes to push your laptime up, or was it a one-off effort?
RT: You could do as much as you wanted, so it was pretty much who wanted to spend the most time. I figured it was a good investment of my time.
BoP: It really is a thing that very few people can say they have done. How do you feel now?
RT: Right now, I feel really excited. I don't really feel that nervous, I want to try my best and say safe. At this point I just want to enjoy the ride. I guess now that the competition has ended it has been a lot more relaxing. In the simulator and at Palmer Sport they were looking at the data to make sure you drive clean and do your best.
BoP: What was it like when you heard your name called out?
RT: It was all a bit unreal. I was really excited but, being announced as one of the three finalists you also had to stay focused because you were going to the simulator and it was only the beginning. But then, being announced as the final winner, that was very relieving, and very exciting. I was very happy.
BoP: We had a chat with Jeff who runs the simulator. He was extremely complimentary about all three finalists, but said one of the things that swung it in your favour was your ability to interpret instructions. Can you see that in yourself?
RT: Actually, I stated this earlier, that I felt my largest advantage was that… I like to think that I receive input well and re-implement it into my performance. I would say that it's much like any other sport. To be coached is the quickest way you can improve.
BoP: Do you do any racing?
RT: Formula Student – we go through the entire process of designing, building, testing and eventually competing with it, so I do have some experience competing as a driver for Formula SAE, or Formula Student.
BoP: You're going to have some bragging rights when you get home.
RT: Oh yes, I know a lot of jealous people.
BoP: Silverstone is one of the classic F1 tracks. What's it like to come here and drive it?
RT: To drive at Silverstone, as you see it on TV with all the races happening here, to finally be here and driving an F1 car on the circuit is just… even though it's the National circuit it's still outstanding, one of a kind. To be coming through the stadium part from the drivers' seat was pretty unreal. I can't wait to see what it will be like in the F1 car.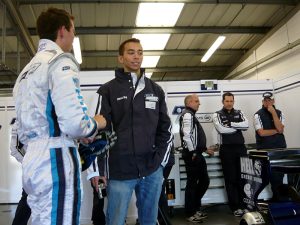 BoP: And you brought a spare… your twin brother Tom?
RT: Just in case something was to happen. Actually, he entered and made it to the top 12 – so we were both here to go to Palmer Sport.
BoP: You said you've been a big fan of Formula One growing up – any interest in American racing?
RT: For the most part I follow Formula One. Every race, all the results, and I am a frequent visitor to the Formula One site, I really try to follow all of it. The only American racing I watch is if it's going on if I happen to turn on the TV so I don't really follow it, I don't know many of the drivers, and I think the biggest part of that is the way the regulations are set up and the scale of Formula One. It's an international competition and not just a national competition and that really adds a unique aspect to it.