Davide Rigon reminded everyone how he came to be Superleague's first-ever champion by taking pole for RSC Anderlecht in Assen, beating ex-F1 driver Franck Montagny in the qualifying final.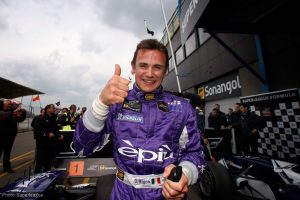 The Bordeaux driver led a trio of Frenchmen filling out the rest of the two front rows, with Julien Jousse representing AS Roma and Franck Perera taking his turn in the Flamengo entry as part of a job-share with Duncan Tappy and Bruce Jouanny.
But Sebastien Bourdais of Olympique Lyonnais was one of a number of big names who failed to advance from the group stages in qualifying, along with championship leader Craig Dolby for Spurs, Liverpool's James Walker, and Max Wissel of FC Basel.
Rigon took the title in 2008 with Beijing Guoan, and this weekend saw his old club return to the series for the first time since the end of that season, Australian John Martin taking up the driving duties.
He said: "It was good because when we started at Silverstone we were a bit at the back but we've worked well this weekend. For today we were thinking about fifth or sixth place but not pole position – but it was a fantastic lap for me.
"The car was working very well. I have a good car so will try to push very hard at the beginning but it will be difficult to build a gap. The race will be long so it will be a big fight."
The previous evening, the series had combined its draw for which teams would go in which qualifying group with an evening of entertainment for the residents of Assen.
Some 12,000 spectators lined the town centre's canal to see Dutch drivers Yelmer Buurman and Robert Doornbos power their AC Milan and Corinthians cars up and down the main street, while PSV Eindhoven's Narain Karthikayan and reigning champions Liverpool's James Walker also took part.
For Buurman, it was a fun experience tempered only by the need to look after the car – and not send it into the canal: "I don't think I've ever done anything like that before – I've done some demos but not with such a quick car.
"It was really good but a shame that I had to take care of it because we still had to qualify and finish three races this weekend – I couldn't do too many burnouts and donuts.
"Having the water so close was also a new experience. Normally there's a big wall between you so it was a bit strange, but the divers were there ready to fish someone out. I still got up to about 200kmph which was good."
As the day ended there was time for a penalty shoot-out in the main square with drivers challenging former Bayern Munich and Belgian international goalkeeper Jean-Marie Pfaff, then fans were invited on stage where all 18 drivers signed autographs.