IndyCar series leader Dario Franchitti and rival Helio Castroneves will start from the back of the field at the Road Runner Turbo Indy 300 in Kansas after race control punished the pair for cutting the white line in qualifying.
Newman/Haas/Lanigan's Graham Rahal will start from pole, while Dan Wheldon must make up ground from ninth if he is to win the race for the third year running.
Franchitti and Castroneves – back in the series after missing the opening race while successfully defending himself against tax evasion charges – had set the second and third fastest aggregate speeds around the 1.5 mile oval but were judged to have dipped beneath the white line that marks the inside of the racing line.
Their demotion means that Rahal, whose 211.311mph four-lap average won him his second pole of the season, will be joined on the front row by his team-mate Robert Doornbos. The Dutchman is making his oval debut after two unexpectedly subdued performances on the road courses at St Pete and Long Beach.
"It's a fantastic start for the McDonald's team," said Rahal, who three weeks earlier had become the youngest pole winner in the series. "First of all, for us to get a pole when we go to St. Petersburg, and then to do it again here at Kansas, I think it's quite a shock.
"And obviously, in memory of Paul [Newman)] it's great for us to have this success early in the season. There's still a long way to go, but for us to get our first [oval] pole here, I hope it's a sign of things to come."
Three women drivers will take the starting flag, with Sarah Fisher and Milka Duno making their season debuts – but they were upstaged by Danica Patrick who shrugged off her usual qualifying weakness to record the fifth-fastest speed.
She will start third after the punishments to Franchitti and Castroneves, next to reigning champion Scott Dixon. Fisher, who now runs her own team, and Duno, who replaced Yorkshire's Darren Manning at Dreyer & Reinbold, fill row six in 11th and 12th.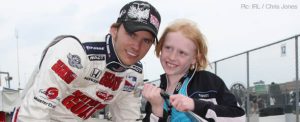 Wheldon, winner of the previous two Kansas races when he was at Target Chip Ganassi Racing, will start on the row ahead of them for his new team, Panther, while Mike Conway and Justin Wilson will line up 16th and 17th.
"We were incredibly loose in qualifying, but that's because we really decided to attack and have a run for the pole," said Wheldon, the only two-time winner in eight races at Kansas. "We decided we were going to be aggressive, and it caught us out a bit, but that's part of it. I always seem to go well around here, so we're excited about our potential."
Franchitti has been placed 20th in the starting line-up, ahead of Castroneves and EJ Viso, who was also sent to the back by race control – in his case, for failing a technical inspection on his car.
The Scot said: "I touched the white line, and the seam pulled me down there. There wasn't any intention of doing it, and I immediately pulled back up.
"I think Brian [Barnhart] made the right call. He doesn't know, he's not driving the car. It's not about intent; it's about what happened. I was below the white line and Helio was below the white line."