Reigning Star Mazda title-holder Adam Christodoulou has been given the chance to pit himself against the best drivers in this year's Firestone Indy Lights championship by joining them in their mid-season test at the Mid-Ohio Sports Car Course.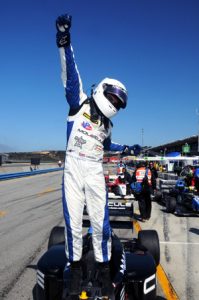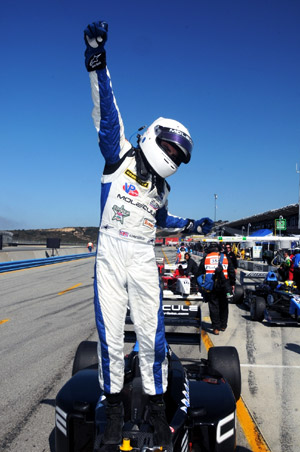 Most of the full-time runners in this year's Lights series will take part in the test, including the seven championship leaders, and Christodoulou will also be there by virtue of his Star Mazda victory last year.
His prize for winning the title was supposed to be a fully-funded year in the Atlantic Championship, but that plan ended when Star Mazda defected to the 'Road to Indy' ladder leading through Indy Lights to the full IndyCar Series – a decision that was followed by the suspension of this year's Atlantics campaign.
Instead, he and Atlantics champion John Edwards are partnering to drive a GT Mazda in the 2010 Grand-Am Rolex series – with some success, as the pair took victory in their class at Lime Rock in May.
But both remain single-seater racers at heart, and some hasty re-writing of Christodoulou's prize to include a test similar to the one his successor will earn means that he will be on track with Lights drivers such as fellow Brits Martin Plowman, Stefan Wilson and Pippa Mann.
The 20-year-old from Lichfield in Staffordshire, who celebrates his birthday the day after the test, said: "I've been an open-wheel racer all my life, so I've very excited to get back behind the wheel of a single-seater for my test with the Andersen Racing Indy Lights team.
"Also, the fact that my time in the car will take place during a private test with several top teams participating will give me a good comparison of my pace against other the top drivers in the series. Right now I'm focused 100% on helping Mazda win the 2010 Grand-Am GT class, but I'm definitely keeping my options open for the future.
"The opportunities that arise from being part of the Star Mazda Championship, the Road to Indy and the MAZDASPEED Ladder are much greater than anything that exists in Europe."
Andersen Racing has been off the pace for much of the season with Spanish rookie Carmen Jorda, but is capable of running two cars and has also given one-race outings to the more experienced Arie Luyendyk Jr and the former Skip Barber National winner Joel Miller.
It would therefore not be a surprise to see Christodoulou make his series debut if the Mid-Ohio test goes well – especially as his previous test, held last year with Bryan Herta Autosport, saw Herta praise him for his "speed and maturity".