Liverpool and AC Milan, rivals on the football field, are shaping up as close competitors on the racetrack too after the Reds' Adrian Valles beat the Italian team's representative Robert Doornbos to size pole in Superleague Formula's Vallelunga race one.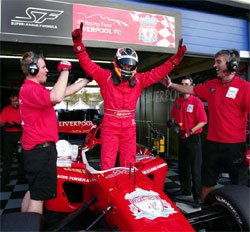 Valles pipped Doornbos for victory in the first race of the football-themed series' previous outing at Estoril in Portugal, and the two teams – whose football parents have contested two Champions League finals – are third and fourth in the title hunt.
The Liverpool car only narrowly made it through from the group stages of qualifying, but once there Valles beat the two Brazilian clubs, Corinthians and Flamengo, to set up a pole shoot-out with Doornbos, who had successfully dispatched Craig Dolby's Anderlecht car and the championship leaders Beijing Gouan.
Doornbos was fastest in the first sector of the one-lap contest, but Valles outpaced him for the rest of the lap to secure the first pole by a British club in the series.
Dolby will start sixth, while neither Tottenham's Duncan Tappy nor Rangers' Ryan Dalziel made it out of the group stages and will start 13th and 10th.
Valles said: "Vallelunga is a new track for me so this morning I concentrated on learning the circuit but it was wet and I was a little bit worried to go into qualifying in the dry without any experience.
"We didn't really perform that well in the qualifying session but it was enough to make the shoot-out. We worked on improving the car during the shoot-outs and I managed to do a really good lap to get the pole. The team did a really good job and we are getting close to the right set-up so lets see if we can win again.
"Every race we have been on the pace but we had bad luck at the Nurburgring so I hope we can continue to push through to Jerez with options to still win the championship for Liverpool."
Doornbos, who has family connections with the AC Milan football club as his aunt Jeanine used to be team physiotherapist, is looking forward to gaining revenge when the real racing starts.
He said: "It was like the Champions League Final between AC Milan and Liverpool. I think we have the fastest car and I proved that with my semi-final lap of 1:21.6 but in the last shoot-out I was on used tyres against Adrian.
"He did very well to get the pole but we will have an extra new set of new tyres for tomorrow and we are on Roma's home ground so it should be very exciting."
A Superleague Formula weekend consists of two 45 minute races, with the grid for the second one settled by reversing the finishing order of the first.