Fans cheering on Lewis Hamilton's title challenge face a nervous start to the Brazilian Grand Prix as the British driver was only able to qualify fourth, behind title rival Felipe Massa who took a dominant pole position.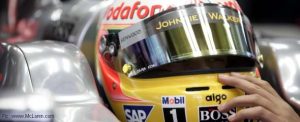 The questions that periodically hang over the McLaren driver's ability to reign back his competitive instincts and take a more subtle approach appeared again during the final qualifying session when he pushed too hard in a warm-up lap, compromising his first attempt at setting a fast time.
By contrast, Ferrari's Massa cashed in a probable light fuel load for his third successive pole at Interlagos. He will be hoping his rival's ambition will force him into the sort of mistake he made at Japan this year and Brazil last year, when his races were wrecked by early attempts to gain places.
But Hamilton is well aware that he needs only to finish fifth to secure the title, even if Massa wins the race. He said: "I don't need to do anything special, I just need to bring the car home for some good points."
However McLaren's hopes of a come-back win in the constructors' championship, which would need a crushing victory over Ferrari, now look almost dead.
Massa has an unlikely front row companion in the shape of Toyota's Jarno Trulli, who shook off a dose of the flu earlier in the week to force his way among the championship contenders in second place.
Behind him, Kimi Raikkonen took third in support of his team-mate and will line up next to Hamilton, while Heikki Kovalainen and Fernando Alonso will fill the third row.
The rest of the top 10 comprises Sebastian Vettel, Nick Heidfeld, Sebastien Bourdais and Timo Glock. BMW Sauber's Robert Kubica, until recently a challenger for the drivers' championship, could manage only 13th.
David Coulthard will start from 14th in his final grand prix, while Honda's Jenson Button could not match team-mate Rubens Barrichello by reaching the second stage of qualifying and will start 17th.
Massa said he does not intend to waste his time worrying about what Hamilton will do: "I am not thinking about that, I am thinking about the race. It is stupid to think about Hamilton all the time, otherwise I don't drive the car. I just concentrate on my job, try to be quickest on the track and that is what we need."
"It is always a good start to be in front. I will try tomorrow my best to win the race and that is the main thing."
Hamilton said he felt no extra pressure because of his second-row start: "Obviously it would be nicer to be further up ahead, but with the strategy we have it is quite good. We are in a great position to finish where we are and even to make some steps forward.
"It's going to be a tough race for sure, looking after the tyres. I'm comfortable with the fuel strategy with have. I think obviously the guys in front are probably on a different strategy – it could be good, could be bad for them, but we will have to wait to see."
Both Red Bull drivers were disappointed with their qualifying performances. Coulthard said: "I'm not really happy with that as my last F1 qualifying session. We went reasonably well here last year and got into the top ten, so we came here thinking that might be possible again. But, in the end, we didn't manage to find enough grip in the middle sector.
"We are reasonably competitive in the first and last sectors, but in the middle we're struggling, as the rear has been sliding, which loses us laptime. The tyres suffer a lot with graining here on the longer runs, we were hoping to keep it together for one lap and then do what we could in the race."
Button had a love-hate relationship with his car, which worked better than had it had done earlier in the weekend – when it worked at all: "The car was a definite improvement from practice this morning as I had much more front grip. Unfortunately I made a mistake on my second lap in turn 4, which cost me some time.
"We made some adjustments to the pressures to help the front end grip before my final run and we were able to go quicker but not by enough. In any case, my car stopped out on track on my in-lap."
Qualifying positions
Felipe Massa, Brazil, Ferrari
Jarno Trulli, Italy, Toyota
Kimi Raikkonen, Finland, Ferrari
Lewis Hamilton, Britain, McLaren-Mercedes
Heikki Kovalainen, Finland, McLaren-Mercedes
Fernando Alonso, Spain, Renault
Sebastian Vettel, Germany, Toro Rosso
Nick Heidfeld, Germany, BMW-Sauber
Sebastien Bourdais, France, Toro Rosso
Timo Glock, Germany, Toyota
Nelson Piquet Jr, Brazil, Renault
Mark Webber, Australia, Red Bull
Robert Kubica, Poland, BMW Sauber
David Coulthard, Britain, Red Bull
Rubens Barrichello, Brazil, Honda
Kazuki Nakajima, Japan, Williams
Jenson Button, Britain, Honda
Nico Rosberg, Germany, Williams
Giancarlo Fisichella, Italy, Force India
Adrian Sutil, Germany, Force India