F1 championship leader Jenson Button took questions from fans and set a time for them to beat in a driving simulator when he helped Bridgestone launch its 'Driving Nation' roadshow in Birmingham.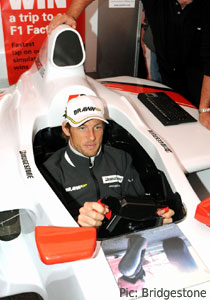 The promotional appearance came at the start of the Formula One summer shutdown, with the Brawn driver in the final days of his preparation for this weekend's London Triathlon – including, according to an interview in the Telegraph, using his team's wind tunnel to test the aerodynamic efficiency of his bicycle.
At the roadshow he took part in a live question and answer session with the crowd and then gave them the opportunity to test their driving skills against him in the Bridgestone F1 simulator.
The Driving Nation roadshow, which is next in Weymouth on August 4th, was created up by Bridgestone to ask motorists what pressures they feel they currently face on the roads, what is driving them mad about motoring today and what they believe the future holds for motoring in the UK.
Visitors were asked to share their views on motoring topics such as the cost of fuel, the condition of the nation's roads, traffic congestion and car maintenance.
Bridgestone advertising and promotions manager Andy Dingley said: "Bridgestone was very proud that Jenson could come up to Birmingham to launch the Driving Nation Roadshow. It was fantastic to see so many people from all over the West Midlands turn out to visit it. What better way to kick off our campaign than with the driver who quite simply has kept us glued to our TV sets over the last five months and has truly come into his own over this F1 season?"