Essex's Luciano Bacheta took advantage of worn tyres late in the race to fight his way through to victory in the first race of the new Formula Two season.
The Ilford driver, who competed last season in both GP3 and F2, started second on the grid but lost a couple of places at the start.
Christopher Zanella, one of three Swiss drivers to qualify in the top five, grabbed the lead from P3 as the race began and appeared on course for victory.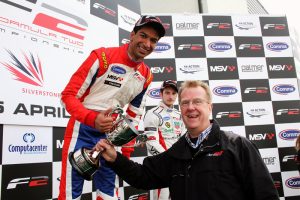 However Romania's Mihai Marinescu, in his third season in the championship, closed up on him and Bacheta recovered to harry them both.
He passed Marinescu going into Brooklands and, as the race reached its climax, used his better grip to take a tighter line through Luffield and make the pass for the lead down the inside.
Zanella had one remaining use of his overboost system, an extra dose of power that operates to similar rules as Formula One's DRS, but he was unable to take advantage of it to regain the lead and finished 0.912sec back in second place.
Bacheta said: "My heart sank when I had that start, because I dropped down to fourth by the first corner which I wasn't very happy with. I stayed out of trouble and started to get into the rhythm of the race, as we were stepping into the unknown in the first race of the year without many long runs in practice.
"I knew it would be easier to overtake when the tyres were falling away towards the end. I would have been happy with third in the first race of the year, but I saw myself starting to catch the guys in front, so just waited and tried to force them into a mistake."
He was pleased with the newly-introduced overboost system: "Overall I liked it, and drivers can no longer cover up mistakes like they could with the previous system. During today's race I knew whenever I used it to get passed someone I immediately had to prepare to defend and make sure they couldn't re-pass. You are a little vulnerable if you're leading though like I was."
Fifth-placed Daniel McKenzie, who raced last season in Formula Renault 3.5, added: "It's a cracking system and possibly the best feature I've experienced in all previous single seaters. It doesn't make overtaking easier as you still need to get close to the guy in front and also still time your move. It also makes overtaking safer as it stops drivers making lunges."