"We like to consider ourselves the naughty boys of motor sport," says Superleague Formula's competition director Robin Webb, proudly staking his championship's claim to be the most politically incorrect series in world racing.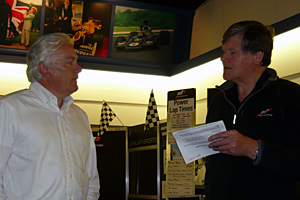 "By that what I mean is we've bought V12 engines in," he explains. "They're not very green and they're not diesels and they're not running on batteries. But they give the most glorious sound and, at the end of the day, if you are a motor racing fan, you love the sound of a V12 engine."
This week Webb – a dapper silver-haired type who seems a world away from the football crowds his series is courting – brought three of those engines to Donington Park for a media day in the shape of the Tottenham Hotspur, Liverpool and Glasgow Rangers cars.
And the appeal of the engines was obvious from the moment Adrian Valles first took the Reds' car screaming out onto the track for an installation lap – prompting an entire pitlaneful of motorbike enthusiasts, visiting the circuit for a track day, to rush onto the pitwall to watch it go past.
It's no coincidence the cars are proving to be big selling points of this new, ambitious series. According to Webb, they were deliberately designed to have some eye-catching differences from their Formula One rivals.
Clean sheet
He said: "There are quite a few differences and it's one of the beautiful things of starting with a clean sheet of paper. You can look at all the good things and the bad things from the past and work out exactly what you like. For example, we insisted on going to two metres' width, which is the old Formula One width.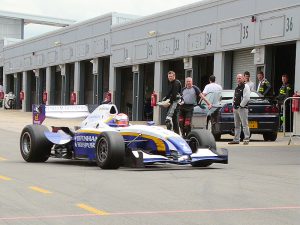 "The second thing is we insisted on slicks, we didn't see the benefit of grooved tyres at all. So we were able to do that, again, right from the word go. And we've got a 750 horsepower engine, V12, 4.2 litres, and it just seems to work very, very well."
Superleague will spend this weekend in Zolder for its Belgian rounds, then return to Donington to race on the weekend of August 1-2. An early start to promoting the UK event saw Brits on Pole join a small gathering of media to watch the cars run laps and practice pitstops, interview drivers and grab a few photos.
As well as Spain's Valles, driving duties were taken on by Rangers' John Martin, from Australia, and Craig Dolby for Spurs. Dolby drove last year for Anderlecht, earning several podiums despite being one of the less well-known competitors, and has the advantage of having grown up near Donington.
He said: "It's nice to only be 20 minutes away from here and it's going to be a good race. Last year we were quite fast here but had troubles in the races. I've got unfinished business at Donington Park and I love the circuit.
"Last year we got on really well with Anderlecht and had a good season, but Spurs came on over the winter and we still hadn't heard much from Anderlecht. We had to do it – driving for an English club is a sensible move for me.
"Because of the Spurs connection I think hopefully there'll be quite a few fans, I was talking to Tottenham the other day and they're trying to get the fans to come along."
Joining Dolby, Valles and Martin were Brits Jonathan Kennard and Duncan Tappy, the drivers for Italy's AS Roma and Turkey's Galatasaray – although they were reduced to being spectators as their cars weren't needed for the British media.
Tremendous strain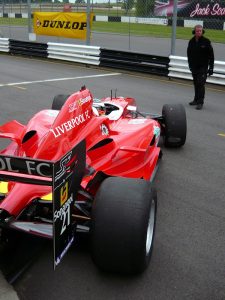 Webb said the format of Superleague, which includes knock-out qualifying sessions and a reverse grid for its second race, puts tremendous strain on the drivers: "You can be sure, at the end of a race weekend, the guy who wins it is a combination of the best driver with the best prepared car. This is not a championship for guys that do not have brains, they're all very bright, very intelligent.
"I think, to win one of these races or to get the most points over a weekend, the driver has had to have worked really, really hard. He has the stress of qualifying, he has the stress of the knock-outs, he has the stress of the two races and the reverse grids, and it is – it's pretty stressful for them. So you can be sure that when one of these drivers gets to the end he's done a really, really good job."
Not that the drivers are unhappy. Championship leader Valles chose Superleague over World Series by Renault when the two competitions clashed this year. He said: "I think it is good to prepare for F1, we are racing in a car that is very powerful, physically it is very strong, you have to be really fit and that also prepares for F1 if you want to get there one day, which is the aim of every driver.
"It is something different to other championships. Racing here is fantastic, I was racing World Series 3.5 this year again with Epsilon Euskadi and had to decide between them and Superleague because two races clash. I think it's fantastic championship and I hope it will grow so one day we can be better than F1."
Great fun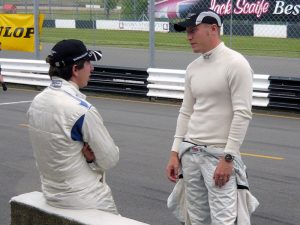 Kennard also said the car was a big attraction for the drivers: "They're great fun. You have to be fit, like the other guys have said, but they're a lot of fun. You can have a real good race with them, you can dive down the inside of another car and you can catch slides so the racing is always entertaining from that point of view. So they're great fun to drive and always produce good races as we saw at Magny-Cours."
Superleague's football branding is broad but not particularly deep, since the clubs whose colours are carried by the cars have no role in their management or operation. Surprisingly, this doesn't stop the drivers forming attachments to their teams.
Tappy, who transferred from Spurs to Galatasaray in the off season, said: "I think everyone enjoyed driving for their clubs, it was a completely different championship in that respect. Even in Magny-Cours a couple of weeks ago there were a couple of Galatasaray fans there and they came up to me and said 'see you at Donington'."
And the series has worked hard to build those links since, even after securing a title sponsor in the shape of Angolan oil giant Sonangol, its future success depends on clubs continuing to see value in a tie-in that not everyone considers particularly obvious.
Webb said: "The drivers do build up great relationships with the football clubs. I get phone calls from Liverpool FC and they always talk about Adrian, they absolutely love him. So these kinds of relationships are very special."
He also admitted the controversial reverse grids, where the winners of the first race started at the back of the second, developed from the commercial realities of dealing with the clubs: "We were able to embrace it really because of the commitment of the football clubs.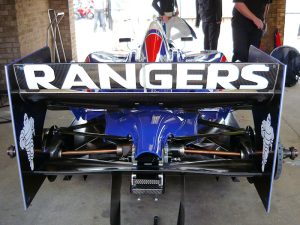 "I've spent many a time in the boardrooms of top football clubs and they'd say to me 'well, what happens if our car goes off at the first corner of the first lap? Then we're out.' And I'd go, 'well you know what? You're going to be on pole position for the second race'."
It's gimmicks like this which damage the series in the eyes of some racing fans, who can't see why a new championship would want to position itself as a bolt-on to another sport and adopt its terminology, colours and philosophy.
Equally, many football fans have rejected it as having nothing to do with their sport – even some supporters of the teams involved see the connection as being no deeper than a coat of paint on the cars.
But, on one level, the whole football aspect of the series is an irrelevant distraction: when the racing starts this weekend in Zolder there will be 18 drivers having a whale of a time as they duel in well-designed, powerful cars that look good, sound great and produce entertaining racing.
Who cares what colour they're painted?
See our photos from the day here.