Craig Dolby, one of the unexpected stars of the inaugural Superleague Formula season, has been named as the driver for the Tottenham Hotspur car next season.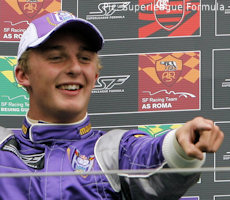 The 21-year-old from Melton Mowbray was one of the more obscure names in a 2008 field that included a couple of ex-F1 drivers and several refugees from GP2 and Champ Car – but he recorded three podium finishes and eight top 10s, taking the RSC Anderlecht car to sixth in the final standings.
By contrast Spurs finished 11th, with Duncan Tappy's second place in Spain and third at Donington not backed up by a solid body of points-scoring finishes, either by the Ewell driver or by stand-in Dominik Jackson.
The 2009 Superleague Formula season begins on the weekend of June 27/28 at Magny Cours, but so far only five of the teams have confirmed their drivers.
Dolby was delighted to be among them – and also pleased to transfer from the Belgian club to a British one: "I'm over the moon to be back in Superleague and it's fantastic to be racing for an English club. The cars are great to drive and the sound from their V12 engines is just out of this world.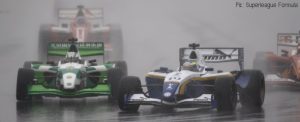 "Superleague was a massive step up for me in 2008 but I learned a lot. I'm now fitter, more mature and ready to build on the podiums I achieved with Anderlecht. Hopefully we can get a win early on and then have a really good crack at the outright championship title. I'm there to win it this year and itching to get out on the track."
The Spurs car is being run by Alan Docking Racing, which also has charge of the Glasgow Rangers entry where Australian John Martin replaces local face Ryan Dalziel. Dolby said: "Far from being rivals, I'm sure we'll be a strong team – having a fast team-mate means we will push each other hard."
Executive Director Paul Barber said: "Tottenham Hotspur is delighted that Craig has agreed to be our new driver for the 2009 Superleague Formula season. We would like to take this opportunity to thank last year's driver, Duncan Tappy, for his efforts in the Spurs car and hope Craig will continue to build up our reputation in Superleague.
"At such a young age, we feel he is one of the most exciting young drivers around and we are proud to have him representing the Spurs on the track. Once again, we are delighted to be lining up on the Superleague grid alongside some of the biggest clubs in world football for another year."