Superleague Formula title contender Craig Dolby has prepared for his Spanish showdown with Liverpool FC rival Adrian Valles next weekend with a trip to meet his team's home fans.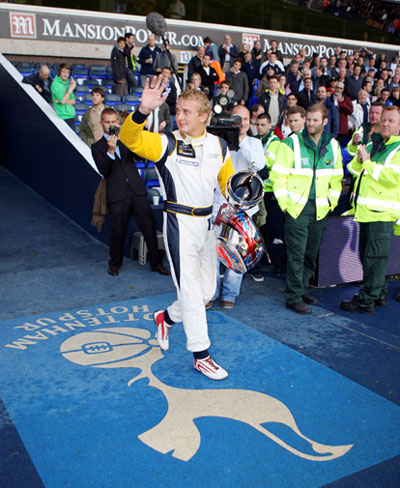 The Tottenham Hotspur driver visited White Hart Lane in North London on Saturday to be greeted with a stirring welcome by the home supporters.
Currently Dolby lies 49 points adrift of Valles – but with 100 points available at the final race weekend, he is still entertaining hopes of becoming the 2009 series champion at the final event, due to be held at the Jamara circuit.
Dolby kicked off his day with a tour of the stadium before walking through the tunnel to be greeted by club legend and former England International Clive Allen. From there it was on to the trophy rooms and finally the main VIP lounge for lunch with sponsors and former players Allan Mullery, Pat Jennings and Martin Chivers.
Craig then took his seat for the first half of Tottenham's Premier League fixture against Stoke City before being presented to the 36,000-strong sell-out crowd at half time and handing the trophy for his second position at Monza over to the club.
Craig said: "It was fantastic to be honest. I was really excited about going and when I was there it was just awesome.
"At half time when I went on the pitch a lot of the players like Ledley King and David Bentley came over, shook my hand and said they'd be watching the race on TV. It's great that they and the fans knew who I was and acknowledged what I was doing for Spurs. That's given me a big boost for the last race.
"It was the first Spurs game I've been to actually. The crowd were mega and then we went and lost! Stoke had two shots on target the whole match and won 1-0. Hopefully they can pick themselves up and win the Cup game against Everton this evening." [And, gentle reader, they did.]
Reds vs Blues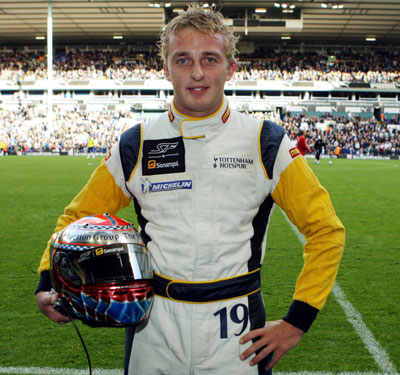 The series has released the following Q&A with the two drivers in the run-in to the Jamara shootout.
Adrian, Liverpool haven't won a league title for 19 years. How confident are you of bringing that run to an end at Jarama?
AV: I'm quite confident. We've got a healthy advantage at the top but that doesn't mean we can relax because it's a really tough championship to win. There are a lot of strong drivers out there who will be pushing hard. It's best to treat it like any other race and hope that things play out like normal. If I start thinking about pressure, trying to win or not crashing instead of racing as I usually would then that's the wrong mentality. I'm just going to go there and try to do my best. The whole team is working hard for it.
Craig, 49 points, although achievable, is still a sizable deficit. Is it realistic to think you can overhaul that?
CD: Yes! All Adrian needs is a mechanical failure or to make a mistake and, if I have a good result, I'm right back in it for the second race. In Estoril, where I was taken off in one of the races, I only got something like 28 points so if he has a weekend like that then it will be close. You never say never and as there's still a realistic chance of the title then I won't give up. If it wasn't for the problems in Portugal I think we'd be within 10 points right now. It's going to be difficult, I'll admit that, but I can still see there's a chance there, especially as I think we'll be fast.
Are you happier chasing down a deficit or would you prefer to be in Adrian's position?
CD: Obviously I'd prefer the situation to be the other way round because Adrian hasn't really got to do a lot to win the championship and if he's clever he'll drive more reserved to pick up points. That's a position I'd love to be in but obviously in motorsport anything can happen.
As a Spaniard Adrian, presumably Jarama's a place you've raced at before in junior formulas?
AV: I've raced there a few times. It's a really small track and normally big, powerful cars don't race there. But I personally think it will be amazing – a fast single seater on such a narrow, bumpy and difficult track. It will be really exciting, especially as I'm expecting a big crowd travelling in from Madrid which is nearby. It's not used that often so it should be full.
Does that previous experience count towards home advantage?
AV: There's plenty of time for others to learn the track in practice so I'm not sure about that. It's quite a difficult circuit and I haven't raced there since 2002 in Formula Renault 1.6 which only has 100bhp compared to the 750 we've got in Superleague. So I know the track direction but I wouldn't say the reference I have from before will be comparable when I return next week.
Can you see anyone from outside you two affecting the championship battle?
CD: With Superleague how it is right now there's any one of 15 drivers that can be fast enough to be right at the sharp end fighting for the top five. It's great to be in a championship with so many strong drivers. I guess you could say that Bourdais' on form at the minute but equally I think that I'm one of the strongest too so I'll be hoping to pull off some special moves at Jarama, that's for sure!
You mentioned that you're tackling the race as if it were any other. There must be some pressure building though?
AV: At the moment there's no pressure. I'm approaching it like any other race. We know we have a good gap and are close to winning it but we don't want to put pressure on ourselves. The team and I are working on a set-up to try and win the race which will obviously give us the championship.
Does racing against another Premier League side for the title offer any extra incentive to win?
AV: Of course it's always exciting when you're up against another Premier League club and I think it's going to be a classic; Liverpool vs Tottenham. But we know we have a good advantage which I hope we don't ruin. I understand that Craig is in a difficult position because he has to push to win the title whereas we could afford just to collect points if necessary. As I said though, we'll still be pushing hard for the win.
CD: Obviously there's a rivalry between Tottenham and Liverpool anyway so there's a bit more because it's a Premier League club we're up against and means more to the fans. For me personally though I just want to win and that's obviously the same in football, regardless of the opposition. It'll feel a bit more like a Tottenham vs Arsenal game. In my mind it's a big deal.