At Brits on Pole we enjoy Formula One – but we also believe there is much, much more to racing than the top-flight open-wheel series. Racing fans who venture a bit further afield are usually richly rewarded – and that's particularly true if you like watching live events for more than the one week a year when the F1 circus comes to town. Or not having to spend three figures on a ticket.
So we asked Ryan of the Junior Open-Wheel Talent blog to explain for our readers why Formula One is great – but there's so much more to being a racing fan. Here's his guest post.
– – – – –
Have you ever wondered where your favourite driver developed his or her racecraft? Every race driver, at least in the modern world, starts out somewhere other than one of the top-tier motorsports series such as Formula One, IRL or NASCAR.
Most of today's 'big-name' race car drivers got their start in go-karts. Ironically, several of them still compete in karts today. Professional karting is so competitive that many drivers intentionally spend their career behind the wheel of a kart rather than graduating to bigger cars.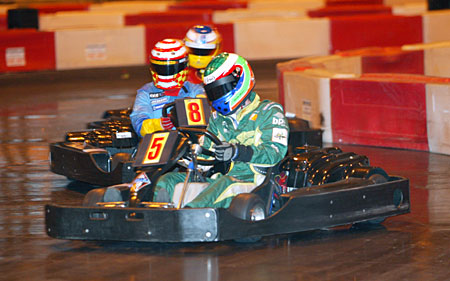 There are a couple of different reasons for this. The number of competitors tends to go up exponentially as the required budget of a series goes down. In other words, karting has arguably some of the deepest fields because more people can afford it. Simply put, the monetary restrictions are less which allows a larger talent pool to compete. The competition is fierce and that's the main reason you see so many of today's famous drivers returning to their roots.
Drivers who wish to move up the motorsports ladder will eventually graduate from karting and move into the junior formula ranks. It goes without saying, in order to make it to the top you have to take one step at a time. The sad thing is many of today's brightest kart racers and junior formula pilots will never have the opportunity to truly develop their talent, due to a lack of publicity and funding. I'm trying to change that by publicising junior formula racing and covering today's Junior Open Wheel Talent.
The drivers are competing for the love of the sport. They don't earn money for driving a race car, at least the majority don't. More commonly it's exactly the opposite; they put themselves and their families through financial hardship to achieve the ultimate dream of racing professionally while earning a living in one of the so-called top-tier series. The drivers spend endless hours in the gym and sacrifice much of their social lives for this dream. That alone should explain why junior formula racing matters.
I've witnessed a few karting events and lower-level junior formula races that offer more passing at the front of the pack in one event than Formula One offers in an entire season. Now, don't get me wrong, I enjoy F1 immensely. The point I'm trying to make is that sometimes it's more enjoyable to watch the growth and development of drivers from the ground up. The racing is great, the talent is great, and the events have a special feel to them. The energy comes from the competitors themselves rather than the large crowds packing the grandstands.
In 2009 there have been 29 active Formula One drivers. Which means the bulk of today's top drivers are competing elsewhere. I could provide you with a list of up-and-coming karting and junior formula drivers, some of whom you may recognize but most average race fans will not. If you're not familiar with them, it doesn't mean they won't be the next Michael Schumacher or Ayrton Senna, perhaps they just haven't made it big yet. It's a very enjoyable thing to be able to watch future stars develop from the ground up. They are, after all, the future of our beloved sport.
So make sure to go out and attend a junior formula race or a karting event and support the up-and-comers of motorsport. Perhaps you will have quite a story to tell when they make it big.