Good news for British motorsport fans looking for an opportunity to see some of the world's best drivers – including Michael Schumacher – compete against each other.
Organisers of the Race of Champions have announced that the event will return to Wembley in December for the second successive year. But there's no word yet on whether Lewis Hamilton might take part.
Last year there had been talk of Hamilton appearing but a long-standing sponsorship commitment reportedly prevented him from attending.
Speaking to The Scotsman newspaper at the time, event co-founder Fredrik Jonsson said: "I'm sure if Lewis had been involved then we would also have had a bigger crowd because he did a fantastic job this year, and he is so popular.
"Lewis has always said he wants to do it, and we certainly hope we can work something out so he can make it next year."
It is not known whether Hamilton's McLaren contract allows him to take part, or how the team would regard his participation.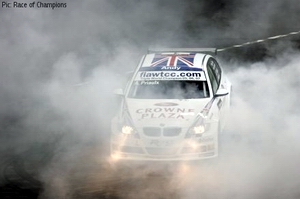 Andy Priaulx demonstrates his WTCC-winning BMW at last year's RoC
Back to hard facts. Taking place on Sunday December 14, the Race of Champions pits F1 racers against bikers and NASCAR stars against top figures from the world of rallying to establish who, exactly, is the best – even when venturing behind the wheel (or handlebars) of an unfamiliar machine.
Wembley's pitch will be covered in nearly 2,000 tonnes of tarmac to create an exciting purpose-built circuit for the event – we defy you not to be reminded of a Scalextric track.
The event's press release says: "After being narrowly beaten by DTM Champion Mattias Ekström in last year's Race Of Champions final, seven-times Formula 1 World Champion Michael Schumacher has thrown down the gauntlet to past and present motorsport stars by signing up to return and fight for the chance to be crowned 'The Champion of Champions'.
"'The great thing about The Race of Champions is that whether you win or lose it's a lot of fun — all the drivers really enjoy themselves and, because they're so close to the action, the crowd love it too,' said Schumacher who, although missing out on the overall title, helped Germany to win The ROC Nations Cup with compatriot F1 racer Sebastian Vettel. The two racers will both return to defend their title in 2008."
Last year the event's attendance was a bit sparse, selling 50,000 seats at a venue with a 90,000-seat capacity – and organisers are taking measures to boost this year's turn-out which mean that some serious ticket bargains are currently on offer.
Prices are reduced from last year and you can nab a further 20 per cent off adult tickets by booking before July 31.
Organisers say it now costs as little as £14.40 for a seat at the event. They add that, with a 50 per cent discount off the standard price for children aged under 15, a family of four can now watch the event for less than £50.
More information at the Race of Champions website here >> (Worksafe warning: press the mute button first!)