McLaren test driver Gary Paffett says he believes the DTM touring car series, in which he currently races, offers fans better value for money than Formula One.
His comments follow remarks by former Minardi and Jaguar driver Justin Wilson, now driving for IndyCar team Newman / Haas / Lanigan in the US, that the top-flight motorsport series was unfriendly and no fun to drive in.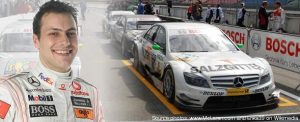 All this makes us wonder a bit – drivers on the way up are desperate to get to the Formula One paddock, however drivers that have been there have definitely developed a sense of perspective about the series.
And GP2 has been getting a lot of attention recently for providing fast, exciting racing where F1 fails. Valencia provided the perfect example. Are we simply all too hung up on F1?
Back to Paffett. The Mercedes driver, recently linked with a race drive with F1 entrant Prodrive before its campaign was halted by legal problems, was speaking in an Q&A session with the series' official site on the eve of its visit to Britain for a race at Brands Hatch this weekend.
He told the DTM site in a pre-Brands Hatch interview: "As a Formula 1 spectator, all you get to see are the cars out there on the track. In DTM, however, the motor-racing enthusiasts can meet their idols in the paddock and get their autographs.
"DTM just features a better value for money. And the support series also add to a perfect race weekend."
And he doesn't think it's a bad series to drive in, either: "I think that DTM is extremely attractive for drivers from every country. It's the most competitive and most prestigious touring-car series of the world.
"Apart from Formula One, there aren't many other series offering you the chance of contesting races on such a high level.
"This season, the grid features more drivers from Great Britain than from other countries – and they all are quick. It seems that we have got a lot of competitive drivers in Great Britain, currently."
Certainly that's refreshing for British motorsport fans who have just seen the numbers of their countrymen competing in F1 cut by half – thanks to David Coulthard's retirement and the demise of Anthony Davidson's Super Aguri team.
Paffett went on to explain what makes the DTM cars attractive for drivers used to F1 cars: "The car massively differs from other touring cars as its body shell is made mainly from carbon fibre and fibreglass.
"The suspension resembles the one of a Formula 1 car. The engine is a husky V8. Everybody seeing that car for the first time is extremely impressed.
"BTCC is something completely different as it's contested with modified production cars. In DTM, however, we have got true racing cars, with their suspensions resembling those of Formula 1 cars.
"The body shell is mainly made of carbon fibre and fibreglass – in this respect, DTM resembles GT vehicles far more than BTCC cars."
Paffett is one of six British drivers competing in DTM and in 2007 was the first driver in the history of the series to win a race in a year-old car.
He currently drives a stern AMG Mercedes C-Class dating from 2007 and therefore is not in a position to challenge the four Mercedes and four Audi drivers equipped with this year's cars. However, he is the 'best of the rest' at ninth place in the points table.
• The British leg of the 2008 DTM championship takes place at Brands Hatch this weekend. More details here >>