He impressed in Formula One, won in Champ Car and now he's being pushed as a future star of the Indy Racing League – so it's no great surprise that Justin Wilson is pretty satisfied with his lot at the moment.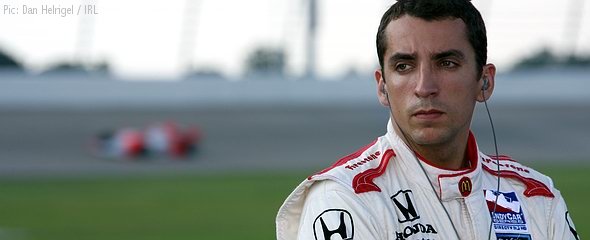 As he approaches his 30th birthday at the end of July, the Sheffield native has justified the confidence of investors who sunk their own money into funding his 2003 entry into F1 with the cash-strapped Minardi team.
Now with Newman/Haas/Lanigan in IRL, he's eagerly looking forward to when the team has got to grips with the unfamiliar equipment and circuits presented by the IndyCar / Champ Car merger and regains its usual position challenging for wins.
His time in F1 saw a series of impressive performances partnering Jos Verstappen in the uncompetitive Minardi, followed by a mid-season promotion to Jaguar that ended in disappointment when he lost the seat for the next season to a better-funded driver.
But, if his answers in an Indy Racing League teleconference are anything to go by, the experience hasn't left him with a sense of unfinished business.
Asked if he missed F1, he said: "Not really, no. I really enjoy the lifestyle and the type of racing over here in America. I find it a lot less politics involved. There's still quite a bit, but that's going to be racing no matter where you go.
"But it's more down to getting in the car and racing and making the most of it. We all have the same equipment, same engine, the same tyres, and I like being able to compete every weekend. So right now, no, I really enjoy it here and don't miss Formula One.
"It's fun to look back on the Formula One days and think, 'That's great, I was there.' But at the time, you don't enjoy it. In this racing, you enjoy it while you do it."
One of the aspects of racing in the US that he enjoys is having a good working relationship with his team-mate, currently the impressive youngster Graham Rahal.
He said: "I've had that situation before in my career where you think, well, I know you're not telling me everything, so I'm not telling you everything. It's not a healthy situation for the team.
"I find racing in the States is a much more open, much friendlier place than Formula One. In Formula One it didn't matter where you were in the grid, you didn't really say anything to your teammate and you definitely didn't try and help him in any way. It's just a different mentality.
"And here you help each other, and if that guy is able to go out and go quicker, then he's just better. But if you're able to go quicker, then you're better. So it's just the way it is."
It wasn't all bad in F1 – the car was a thing of wonder after the likes of F3000 and the Telefonica World Series by Nissan: "I remember the first time I drove the Formula One car it was so effortless that it was like a video game. You had to step back and calm yourself down a little bit before you get carried away and realise that you can get hurt doing this."
On his prospects for the rest of this season, he's slightly disappointed not have done better but believes N/H/L has done as much as it could have hoped to in catching up with the more experienced IRL teams.
"We're pretty much in line with what I expected through this transitioning year, and hopefully we can put it together in the next couple of courses and finally get on the podium and improve the results, because I feel we've shown well in a lot of races but don't have anything on paper to say that.
"People that know, watching it, will understand what we've done, but to the casual fan they might not realise what we've gone through and what we've achieved. The aim now is to try and translate that into something a little bit more substantial, and hopefully we can get some good results here."
You can read the full interview, which includes a discussion of the team's prospects at Edmonton , on the IndyCar site here. It's the bottom half of the page – the top half is an equally interesting Q&A with Brazilian Indy Lights race-winner Ana Beatriz – a real name to watch for the future.