Indy Lights racewinner Martin Plowman has swapped his normal tousled hairstyle for a military buzzcut as part of a bid to raise money for armed forces charities in the UK and US.
Plowman, originally from Tamworth but now based in Indianapolis as he seeks an IndyCar Series ride for next season, is one of a group from the championship currently taking part in a goodwill tour of US military bases in Germany, the Middle East and Iraq, plus the aircraft carrier USS Abraham Lincoln in the Persian Gulf.
With Plowman on the tour are former Indianapolis 500 winners Mario Andretti, Al Unser Jr and Johnny Rutherford, team boss and ex-driver Sarah Fisher, veteran racer Davey Hamilton, Larry Foyt of the Foyt racing dynasty, broadcaster Jack Arute, and faces from the series itself such as president Terry Angstadt and 'trophy girl' Cameron Haven.
While the aim of the tour is to provide a morale boost to servicemen and women in military hospitals or on active service overseas, and also to publicise the centennial year of the Indy 500, Plowman upped the stakes for himself with his pledge to have his head shaved by a military barber in return for charity donations.
He said: "In addition to our group mission, my personal mission is to raise $10,000 for two good causes – Help for Heroes and the Wounded Warrior Project. The money raised will help rebuild the lives of soldiers who have made sacrifices so that we may walk free.
"What happens once we reach our $10,000 goal? I will lose my perfectly-coiffed locks and receive a military crew cut while on board a US aircraft carrier by a military barber. It will be filmed and broadcast for each of you to see."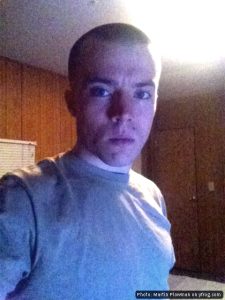 While the fundraising total hasn't yet been reached, the deed was done on board the USS Abraham Lincoln – in fact, the crew cut plan went out of the porthole as Arute led chanting spectators in demanding a complete head shave, leaving a shorn Plowey looking rather draughty behind the ears.
"It was quite a hit with the guys and was all in good humour for two great causes," he said. "'Coach', the ship's barber, did a great job and made the experience a whole lot less painful. It was a lot of fun but in all seriousness this was for a good cause – it was a promise I made and I wanted to keep it."
The whirlwind pace of the tour has seen the drivers snatching odd hours of sleep on the floor of giant military cargo aircraft as they fly from base to base across time zones, but the reception they have received from racing enthusiasts in the military has made up for it.
"We're very privileged to have a visit from some of IndyCar's racing legends and some of the upcoming stars as well," said Andretti fan and army captain Martha Petersante-Giola at one of the autograph sessions. "Just to see a Foyt, an Andretti and an Unser at the same table is kind of amazing because normally they've been duking it out on the track for years and years."
[youtube:http://www.youtube.com/watch?v=l9G3fxxLAhI]
But the drivers believe the wrong people are saying 'thank you'. Plowman said: "One common theme I can't get over is how appreciative the guys are to see us. We are the ones who should be thanking them.
"It's really starting to hit home how important this mission is to morale. Just by spending time with as many of the troops and sailors as we can, we hope to give them something to smile about and break up the Groundhog Day effect of their deployment."
To donate to Plowman's two appeals, go to either www.justgiving.com/ploweyshaircut for Help for Heroes or www.crowdrise.com/ploweyshaircut for the Wounded Warriors Project.
You can follow the events of the Indy 500 Centennial Tour on Plowman's website here, or on the IndyCar Series website and YouTube channel.