Jenson Button's reputation as Formula One's most high-profile athlete is about to take a knock – with super-fit Aussie Mark Webber re-establishing himself on a Donington Park bike ride after recovering from a broken leg.
The UK-based Red Bull driver sustained the damage after his mountain bike collided with a 4×4 during a stage of his own endurance event, the Pure Tasmania Challenge.
Webber has since announced that the event will not take place next year – but that doesn't mean he's given up with the performance cycling, oh no.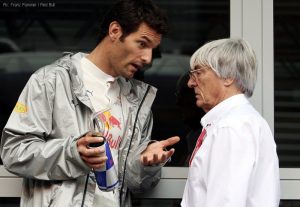 He is taking part in today's Cycling Plus Sportive event – a 100-mile route around the Peak District that starts and finishes at Donington Park. (There's also a 60-mile variant should that leg not be feeling too good.)
He told Bike Radar: "I'm really looking forward to the Cycling Plus Sportive. I've been cycling seriously since around 2000 — I love the fitness, fresh air and focus riding a bike gives me.
"I'm hoping to persuade a couple of mates to join me on the sportive and just have a great day's riding.
"I've got fond memories of Donington Park, too, because in the late 1990s I won a sports car race there and finished on the podium quite a few times too, so I know the track well and it'll be fun to ride around it!"
Well, let's see. For 15 years the record for a lap of the Donington circuit was 1:18.029, set by the great Ayrton Senna in the 1993 European Grand Prix. That fell in September last year when Malaysia's Fairuz Fauzy set a time of 1:17.474 in A1GP testing.
Question is – could Webber do better on two wheels…?
* Cycling Plus Sportive is supporting the Geoff Thomas Foundation, a cancer charity. Find out more about its work here.
Webber is also behind a second long-distance British bike ride, the "Ride to the Horns" challenge taking place in the Chilterns on June 14 and taking in some of the climbs from the Tour of Britain. More here.