Scotland's Allan McNish has taken his second 24 Hours of Le Mans win, and first with Audi, triumphing in a thrilling race just a year after mechanical failure cost him a probable victory.
The team of McNish, Rinaldo Capello and Tom Kristensen could only qualify fourth in the Audi R10 TDI No. 2 car behind a trio of highly-fancied Peugeots and – although McNish briefly grabbed third on the first lap – the French cars set the early pace and proved the faster throughout.
But the Audis were able to counter their rivals' speed with greater efficiency and reliability, especially when rain hit overnight, and the No. 2 car took a race-winning lead just after 5am.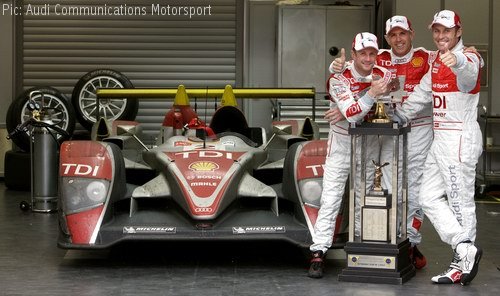 Allan McNish, Rinaldo Capello and Tom Kristensen celebrate victory
It was McNish's first win since 1998 with Porsche, while Capello was tasting victory for the third time and Kristensen for a record eighth.
It was a close race throughout, with never more than a lap separating the race-winners from the top Peugeot 908 and the victory uncertain until the final few rain-soaked laps of the 13km circuit.
Kristensen had the lead, but was driving conservatively to protect it against Nicolas Minassian, who was gambling on a much faster, but less controllable, set-up as he tried to close the gap.
In the end McNish, Capello and Kristensen finished just four and a half minutes ahead of Minassian, ex-F1 driver Marc Gené and Jacques Villeneuve, who was seeking the triple crown of F1 World Championship, Indy500 victory and a win at Le Mans.
The other Audi R10s and Peugeot 908s filled out the rest of the top six places, with Peugeot's Franck Montagny, Ricardo Zonta and Christian Klien in third.
Last year, the same trio of Audi drivers had looked on course for victory when Capello, running in the lead close to the 17hr mark, suddenly lost a wheel and crashed into a tyre barrier, suffering race-ending damage.
McNish said: "I'm overjoyed to have finally won the Le Mans 24 Hours with Audi – I've come very close on numerous occasions in the past but despite fierce opposition from start to finish, some of the most demanding and difficult track conditions, and unpredictable weather, I've finally done it.
"I didn't take risks at the start and was happy to follow the Peugeots. But they soon encountered problems of varying degrees. The track was treacherous in the rain – greasy and slippery – like driving on ice.
"Thankfully the car was very sure-footed but driving in those conditions for over three hours required 100 per cent concentration because if you made the slightest mistake, you just didn't go wide, you would have crashed off and out of the race."
Audi's head of motorsport, Dr Wolfgang Ullrich, said: "I think you couldn't imagine a better race for the spectators – the 2008 Le Mans 24 Hour race will become part of history as a unique race.
"It was a tense race for the whole duration of 24 hours. We didn't enter the race as the favourite, but our success was the result of good performances and a faultless showing – and we achieved that against strong opponent."
Technical director Ralf Jüttner said the race was "absolutely crazy", with chaotic weather that forced quick decisions from the team strategists: "Which tyres do we go for, which ones are available at all? The guys sometimes received their instructions regarding the tyre variant barely seconds before the pitstops. Everything worked well – not a single fault of the crew."
Brits on Pole normally only covers open-wheel racing – but a result like this is impossible to ignore, and of course Allan McNish is an ex-F1 driver and tester too. In fact, we've been looking for an excuse to extend our coverage to include him for some time now!