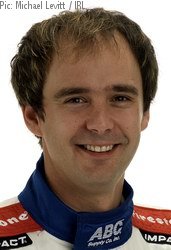 A quick interview with IndyCar driver Darren Manning is available on a local US news channel as part of the build-up to this weekend's race at the Milwaukee Mile.
Asked what it's like to compete against the "feisty" Danica Patrick, he replied: "We're all a bit feisty at times – but unfortunately for her she gets the media attention when she is. It's difficult, she's got a lot of pressure on her – but she's doing a lot of good things for the sport and the IndyCar series."
The interview is on WIFR, the CBS affiliate that covers the Rockford area in northern Illinois and across the state line into Wisconsin, including the home towns of both Patrick and the sponsor of Manning's car, the ABC Supply Co.
Milwaukee and the the next IRL race – the ABC Supply/AJ Foyt Indy 225 – is just up the road.
This probably explains why AJ Foyt Enterprises driver Manning was chosen as interviewee – and why they asked him about Patrick. The segment also repeats footage of Patrick's confrontation with Dan Wheldon after last year's Milwaukee Mile.
The station doesn't offer the option to embed its videos and doesn't seem to have a YouTube channel either, so if you're interested you'll just have to visit its site here for the interview.