A1GP's Team GBR has called in an experienced pair of hands for its first race in Chengdu, China from November 7 – and, with no opportunity to test the car before flying there, that's about the only good news.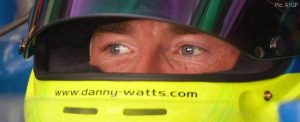 On Monday the team announced that Danny Watts, one of the first drivers to get his hands on the new Ferrari-inspired design as a test driver, would be in the car for the second race of the season. No statement has been made about future races.
Series organisers also revealed that, despite a successful test for most teams at Silverstone, Team GBR was one of three that had still not received its chassis and was unable to take part.
They said: "A1 Teams India, Mexico and Great Britain… have still not tested their chassis, but their cars will be in the freight that leaves the UK on Saturday to go to China.
"The A1GP organisers will allot extra testing time to these teams next week at the Chengdu International Circuit prior to official practice."
The British team was one of several unable to compete in the season opener in Zandvoort earlier this month because production of the cars, being undertaken in house for A1GP, had not been completed in time.
The scoring system for the season was adjusted, allowing teams to ignore their weakest performance, but the start was far from ideal for an outfit that is hoping to challenge for the title.
Team Pakistan's Yorkshire-born Adam Khan, who checks in at 6ft 1in, also had to give up his drive because he felt unable to function safely in the car.
His chassis was rapidly resprayed and handed over to defending champions Team Switzerland. It is unclear whether or not he will be able to compete in Chengdu.
And with Team Ireland's Adam Carroll spinning out in both the Zandvoort races, there has been precious little for British fans to cheer about so far this season.
Danny Watts: secret weapon
Watts could well turn out to be the secret weapon that spares the British team's blushes, thanks to the fact he already has vital experience in the car.
He was tipped by Brits on Pole in September as a driver to watch by anyone interested in the fortunes of the British A1GP team over the next year.
Katie Clements, team principal, said: "After the very disappointing yet unavoidable car build schedule delays which prevented us from competing in Zandvoort, I am delighted that we will finally be in action with the new car next week.
"Despite missing a round, we are keen to make an impact in China and prove that we are championship contenders in what I am sure will be the most competitive season yet.
"With Danny's impressive racing background and his experience with the new A1GP Powered by Ferrari car, we are looking forward to a fruitful first race weekend of our campaign."
Watts added: "It's a great privilege and honour to be asked to drive for A1 Team GBR, having represented the team once before in Zhuhai last season.
"I've had the experience of driving both A1GP cars, and the new A1GP Powered by Ferrari car is certainly a big step up in all areas. The biggest goal will be to score as many points as possible in Chengdu in order to get GBR's championship battle underway as we cannot drop any races for the rest of the year."
The team also announced that James Winslow, who participated in several rookie sessions for the squad last season, will undertake reserve driver duties in Chengdu.
At least Carroll's smiling
One driver whose season has improved slightly is Team Ireland's Adam Carroll. At the Silverstone test day, held on Thursday, he topped the unofficial timesheets with a lap time of 45.554 seconds – narrowly beating title-holder Neel Jani of Team Switzerland.
This was a welcome boost after his disappointments at Zandvoort where, despite initially qualifying well, he spun out of both races in atrociously wet conditions.
Organisers said his lap was more than two seconds quicker than the previous best A1GP lap on the circuit's national layout, set by India's Narain Karthikeyan in testing one year ago.
Carroll said: "To get a couple of hours of running this afternoon is great, because I haven't really had much time in the car and I didn't get a whole lot of racing in at the weekend.
"It actually feels like it's been a while since I was last in the cockpit. It only took me a few laps to get back into it though, but the car felt really good. Every time I drive the new car it just gets more and more impressive, with the speed and downforce both very good."
View the full timesheet here >>