Sebastian Vettel poured a bucket of cold water over the feverish excitement at Silverstone by turning the British Grand Prix into a demonstration drive as Red Bull Racing scored their second 1-2 finish of the year.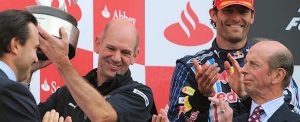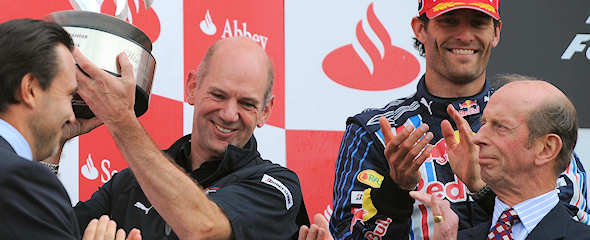 Mark Webber, blocked from the front row in qualifying, overtook Brawn GP's Rubens Barrichello in the pitstops to take second place as the balance of power in the eternal battle for supremacy between Adrian Newey and Ross Brawn swung towards the Red Bull designer.
"I want to thank Silverstone," said Vettel. "It's only my second time here, I enjoyed it so much here, the cheering was fantastic, the emotions especially when I crossed the chequered flag, it was fantastic.
"The atmosphere was great. This is what I was dreaming of when I saw the first grand prix here in era of Mansell and so on. It is unreal now to think I am here, I have made it and I have won this grand prix."
Barrichello survived severe back pain and the attentions of Felipe Massa and Nico Rosberg to wrap up third place, calling it the best result that was possible given the pace of the Red Bulls.
Team-mate and world championship leader Jenson Button struggled for pace all weekend before finally finding some speed in the final stint of the race. He was able to cruise up to the back of Rosberg by the final laps but had no time to look for a way past and finished sixth. Jarno Trulli and Kimi Raikkonen took the final points positions.
Button's troubles began at the start, when he was boxed in and dropped to ninth place: "I got a terrible start. Jarno Trulli, in front of me, got a really slow getaway and I had nowhere to go. I tried to go to the inside, but that wasn't there, and I tried to go to the outside and that was full, and then everyone shot by me on the outside."
His soft tyres gave him a speed advantage, but not enough to overtake: "Behind Trulli in the first stint, I slowed up behind him to give myself some clear air and see what times I could do, and I was eight tenths to a second quicker. There's just nowhere to pass on this circuit.
"Then on the hard tyres the car just didn't work and I couldn't get any tyre temperature. That's the way our car is in cooler temperatures. On the soft rubber near the end I was able to close in on Nico Rosberg and Felipe Massa like they were standing still, but you still can't pass around here."
Button's lead over Barrichello in the drivers' championship has been cut to 23 points, with both Vettel and Webber breathing down the Brazilian's neck. Brawn GP is 30.5 points ahead of Red Bull in the constructors' chase.
Lewis Hamilton, whose qualification woes had left him stranded on the back row of the grid, fought a number of sharp-elbowed battles with BMW's Robert Kubica and with the Renaults of Fernando Alonso and Nelson Piquet, but ended up behind them all in 16th of the 18 finishers.
He said: "I gave it my all today. Despite fighting for the lower positions, I was absolutely on the limit for the whole race. We knew it would be difficult, and I enjoyed my battle with Fernando, but we didn't have the pace today to get into the points.
"The best thing about this weekend has been the fans: they really gave me some consolation by cheering me on throughout the race. I would love to have given them a result to make them happy, and my country proud, but we still have a lot of work ahead of us before that will be realistic."
Team boss Martin Whitmarsh added: "Sometimes you have to go backwards before you can begin going forwards – and, painful as it was for all of us, this weekend was an example of that."
British Grand Prix result
Sebastian Vettel, Red Bull
Mark Webber, Red Bull
Rubens Barrichello, Brawn
Felipe Massa, Ferrari
Nico Rosberg, Williams
Jenson Button, Brawn
Jarno Trulli, Toyota
Kimi Raikkonen, Ferrari
Timo Glock, Toyota
Giancarlo Fisichella, Force India
Kazuki Nakajima, Williams
Nelson Piquet Jnr, Renault
Robert Kubica, BMW
Fernando Alonso, Renault
Nick Heidfeld, BMW
Lewis Hamilton, McLaren
Adrian Sutil, Force India
Sebastien Buemi, Toro Rosso
Did not finish
Sebastien Bourdais, Toro Rosso
Heikki Kovalainen, McLaren-Mercedes
Drivers' championship standings
Jenson Button, 64
Rubens Barrichello, 41
Sebastian Vettel, 39
Mark Webber, 35.5
Jarno Trulli, 21.5
Felipe Massa, 16
Nico Rosberg, 15.5
Timo Glock, 13
Fernando Alonso, 11
Kimi Raikkonen, 10
Lewis Hamilton, 9
Nick Heidfeld, 6
Heikki Kovalainen, 4
Sebastien Buemi, 3
Sebastien Bourdais, 2
Robert Kubica, 2
Constructors' championship standings
Brawn, 105
Red Bull, 74.5
Toyota, 34.5
Ferrari, 26
Williams, 15.5
McLaren, 13
Renault, 11
BMW, 8
Toro Rosso, 5