Yorkshire's Darren Manning will drive in the IndyCar Series season opener this weekend after securing a last-gasp deal to team up with fellow Brit Mike Conway at Dreyer & Reinbold Racing.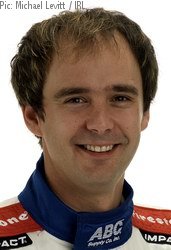 Manning lost his seat with Foyt Racing at the end of last year in the musical chairs that followed Dario Franchitti's return to the IRL from NASCAR.
Nothing came of speculation that he might spend the 2009 season as a road course expert for Sarah Fisher while she tackled the ovals, and a planned drive in the European Le Mans Series was lost when his team, Embassy Racing, shut down.
But now the likeable veteran, who has scored 25 top-10 finishes in his 58 IndyCar Series starts, has bobbed up with the midfield IRL team Dreyer & Reinbold, where he will drive the No. 23 car in the Honda Grand Prix of St. Petersburg.
So far, the deal is only for the one race.
"We are excited to be able to put a deal together, even though it is last minute, to run Darren Manning at St. Petersburg," said team co-owner Dennis Reinbold. "He's a really talented driver who will be a great teammate for Mike and can round out our two-car effort as we continue to build for the 2009 season."
Manning said: "It was the Monday before the first race in St. Petersburg and I wasn't going. I was organising my plans for the weekend and set my mind that I wasn't going to be driving in the 2009 IndyCar Series – and then Tuesday afternoon I got the call from Dennis to get me in the car, and it has all changed.
"It was a hectic afternoon, but I have been talking to these guys for a long time and saw what they did last year, and with what they did over the winter I could see them doing really well."
He told a press conference that he had been in negotiations with the team last year in the hopes of driving for them at the non-points race in Surfers Paradise, Australia, but nothing had come of it.
"They wanted to try and get me in the car for that, and we had several conversations around that kind of time. I guess I was just on their minds when the opportunity arose that they needed a guy at the last minute. And literally late evening I got the call, and fortunately I wasn't doing anything else."
The deal was struck so late that there was no time to fit him for a race seat from scratch – happily, his former boss AJ Foyt has forward one of the ones he used last season while driving the No. 14 car.
Last year Dreyer & Reinbold ran former Indianapolis 500 winner Buddy Rice in one car, and alternated Milka Duno and Townsend Bell in the other. Rice scored some notable results – and also clashed with Manning in the pitlane of the Indy 500 when the Yorkshireman pulled too quickly out of his pit box.
Talking to Brits on Pole last year, Manning suggested the incident had cost him the chance to compete for victory in the race. The pair finished eighth and ninth, Rice ahead.
This year's deal does not stretch as far as the Indy 500 – at the moment it's for one race only. Manning said: "I know St. Pete very well and can offer the team and their primary driver, Mike, a good head of experience and hopefully some good speed and a good performance that I've always had.
"The team has been working really hard on sponsorship, and there will be sponsors on the car. They're trying to put something together for the whole season, but obviously everybody – the Conquest guys, Dreyer & Reinbold, everybody – is struggling for sponsors, and this is only going to be a one-race deal. Possibly Long Beach too, because it's only a couple of weeks away, maybe some of the road courses. We'll just have to wait and see."
His partnership with Conway pairs together the 1999 and 2006 Macau Grand Prix winners – and this is not the only similarity between the drivers. Manning said: "We kind of know each other just from around the paddock and things like that. We've never raced against each other.
"He's a little younger than me and came up through the ranks, not dissimilar to how I did, with racing in Formula 3 and winning the Macau Grand Prix and being a Formula 1 test driver for Honda like I was, a couple years later than me.
"So we've taken a very similar path, and it's quite amusing that we've ended up at the same place at this junction. I know his speed and talent and successes, and I just got off the phone with him about a half an hour ago answering as teammates. We're both pretty excited, and we know how important it is to have quick team-mates."
More from Manning
Darren Manning was interviewed in an Indy Racing League teleconference following the announcement of his drive at St Petersburg, and had a lot more to say. Here are some extracts – the full transcript, along with other interviewees in the conference, is on the IRL website.
On Brawn GP's success
"I know a lot of guys still at work there, as I'm sure Mike Conway does. It's a great operation, and obviously it's one of the newer, big budget teams of recent eras. Reynard and British American Racing, as it was back then, started up from scratch, and built this huge operation, and then it turned into Honda. And they had a lot of good things happening there.
"But maybe the decision-making wasn't quite how a successful Formula One team should be operated. If you look at Frank Williams, Ron Dennis, Briatore, all the successful teams have got one figurehead making the final decision. And now, with it being Brawn GP, I'm sure Ross Brawn is making the final decisions.
"We know from his Ferrari days that when he's given that power, he makes some very, very good decisions on what's needed from the car, and I don't think he had that when he was with Honda, and I think he's got that now. So it's no real surprise that now the skill of all the guys there in Brackley are shining through now that somebody is putting their head on the chopping block.
On finding sponsorship in a global economic downturn
"It's been a nightmare. I have a manager who works out of the UK and looks after a couple of the other drivers, and I know obviously a lot of teams around America and back in Europe. A lot of guys have had to shut down, so it's a real testament to anybody who can keep going in this current climate. I know how hard it is to find sponsorship.
"I'm not in a position where I have any personal sponsorship – I've been looking, but I've been more looking for drives than I have been for getting a sponsor and then taking that to a team.
"It's a little bit of a different situation for me. I was racing in Europe at the end of last year and that was looking good until that team, the business that was propping that program up, went under because of the current crisis, and that drive went away.
"I picked up a Grand-Am drive and now this. So it's just scrappy. You've got to never give up."
On having a team-mate
"It was something I, and the whole team, felt over the last couple of years was lacking at A.J. Foyt Racing – I was just by myself, and it is difficult when you're just by yourself to get through everything that a race weekend demands. With somebody to lean on, an extra set of setup information and data and speed, you're quicker here and I'm quicker there.
"It's going to be good for me and also good for Mike – having my experience to lean on about pit stops and what the race is going to bring for him and what to expect of the race weekend and these cars and tyres and racing against a lot of these other guys that I've banged wheels with for the last four or five years.
"So it's going to be good for me, also, having a guy of Mike's talents to compare data with. And I think that's one of the big reasons why Dennis and the whole DNR team wanted to go this way with me, get two good guys in there that could work well together and help take the team forward, to try and challenge for wins, and I don't see of any reason why we can't do that even this weekend."