Scott Dixon stretched his championship lead by beating closest challenger Helio Castroneves into second place in the Rexall Edmonton Indy – while Justin Wilson flew the flag for the ex-Champ Car drivers by taking third.
Dixon had qualified fourth but gave himself a winning advantage on lap 51 by radioing ahead to his crew asking for an extra push out of pit lane next time he stopped.
Up until then, the race had been all about the Team Penske pair of Ryan Briscoe and Castroneves, who had qualified first and second then led all the way apart from a period when some cars were out of sequence with their pitstops.
But the shove was enough to get Dixon out ahead of his rivals, and on lap 62 he hit the front as other cars pitted.
Castroneves challenged the New Zealander hard during the late stages of the race until a slight error made him drop five seconds off the pace. His runner-up spot was his sixth of the season and means he is still mired in his longest-ever losing streak.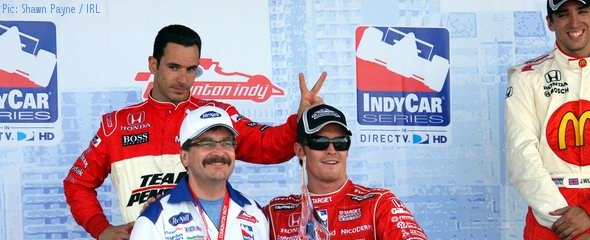 Dixon said: "Helio has been very strong in the last two races – he's been trying to chase us down, but we were able to make a small gain on him this weekend. At this point, I think a 65-point lead is pretty strong. We just have to keep on it for the next four races."
Castroneves has not given up on the championship yet: "I was doing everything I could just to keep up. I was pushing and trying to put pressure on Dixon with every lap, but he never made a mistake. I'm just going to keep working hard because it isn't over for Team Penske yet."
Wilson, winner at the circuit in 2006 as a Champ Car driver, turned sixth on the grid into third at the finish. He said: "Under the circumstances we're very happy with today, and it's great to put the McDonald's car in the top three.
"We've had the capability of doing that on many occasions but something has always gone wrong. Today's race was very eventful, but we were able to stay clean out there. We knew when to back off and we knew when to push, and that's why we're here."
Behind Wilson came veteran Paul Tracy, making a one-off return to racing after losing out during the Champ Car merger. He had qualified a disappointing 15th, but made up for it with a storming drive that culminated in a finishing-line pass on Oriol Servia's damaged KV Racing car to seize fourth.
He said: "I'm just super-excited for the team. They prepared this car in about a week and a half, and I gave it a first-class effort for the sponsor. With a little more practice and me not sitting on the couch for the last six months, maybe we could do better."
Wilson added: "I told him, 'Not bad for an old guy.' It was good racing. I've always enjoyed racing with Paul. I know a lot of people have had problems with him, but I've always enjoyed it because he races hard, but fair. I don't mind going wheel to wheel with him."
Servia had damaged his car hitting Dan Wheldon as the Englishman braked to avoid Marco Andretti. He said: "It was just one of those races. Wheldon braked hard, but had nowhere to go and I hit him really hard. I broke the front wing, but the car didn't lose too much lap time.
"It was just the last two laps, the steering arm started to break, and on the last lap it completely broke. So, in a way we were unlucky, but lucky to finish at all."
Darren Manning recorded his fourth consecutive top-10 finish, taking 10th place. He said: "It was a good tough race – we were in a battle for the whole race. I think we did a good fuel strategy.
"We were a little slow in the fast corners, so I got passed coming out of the fast corners, but I was one of the fastest in the slow corners. But we have a good starting point for next year and have some good direction for what we have to change. At least we have another top-10 finish for the ABC Supply team."
The result means Dixon leads Castroneves by 65 points in the championship, 505 – 440, with Wheldon and Tony Kanaan losing ground fast on 390 and 387. Wilson moves up to third in the Rookie of the Year standings, but is still 49 points behind Hideki Mutoh and 20 behind Will Power.