Jenson Button shrugged off fears that the field had caught up with Brawn GP's early-season pace to take a confident win at the Bahrain Grand Prix ahead of Sebastian Vettel and polesitter Jarno Trulli.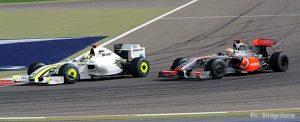 Toyota's hopes of turning Trulli's and Timo Glock's front row start into their first-ever race victory foundered in the face of a poor race strategy that saw them on the wrong tyres at the wrong time.
Instead Button made the most of an opening two laps where cars raced three-wide and overtook each other freely, recovering from losing a place to Lewis Hamilton and establishing himself as the top non-Toyota runner.
When both lightly-fuelled Toyotas switched to the medium, slower, tyre choice for the middle stint and began backing up the rest of the field he was able to build a winning lead – and when the Toyotas were fastest in the final stint on super softs they were unable to get through the traffic to chase him down.
The victory was Button's third of the season, but the first that didn't finish under a safety car because of wet weather. He acknowledged that the win was built on his overtake of Hamilton, while rival Vettel remained stuck behind him.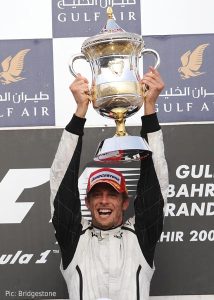 Button said: "He is very difficult to overtake, but on the first lap he made a few mistakes. I dived down the inside and on the straight I thought I could get alongside him. I did but he pushed his button and got ahead, but I got him into first corner. That move made the race for us.
"This win was the best of the lot. We didn't have that competitive edge. It is the fourth flyaway, we have a lot of bits that need to be changed and are getting a bit aged, so to come away from this race is great and we are now looking at improving the car."
And improvements will be needed, he reckons: "This was a tough race for us – this weekend we haven't had the pace we had in the first three races. These guys have probably gone past us."
Hamilton went on to finish fourth, some way adrift of Trulli and with Rubens Barrichello fast closing in on him. He said he was delighted with his result: "The Toyotas, Red Bulls and Brawns were so fast in the high-speed corners that it was just impossible to keep up.
"But this is another encouraging step for the team, we just need to keep working on the car because we're not really fighting back quite yet, we are collecting points. And the gap will be bigger when we go to Barcelona because it's a high-downforce circuit."
Vettel said it had been a difficult race: "The start was okay, but then suddenly Lewis was next to me – he must have pressed his special button and got an advantage. At the first corner we were three deep, me in the middle and Jenson on the outside, so I had to give way and lost two positions.
"Unfortunately I then got stuck behind Lewis, which caused degradation to the tyres – you start to slide and never really come back from that."
Both Toyota drivers agreed they had lost the race during their second stints, on the harder tyres. Trulli was glad of his podium, but far from satisfied: "I'm a little disappointed to be honest because I thought we had a chance to take Toyota's first win this weekend."
Behind the top five, Kimi Raikkonen took Ferrari's first points of the season, holding off seventh-placed Glock and finally hauling the Italian team ahead of Force India in the standings. Fernando Alonso survived a poor start and dehydration from a malfunctioning drink pump to take the final point.
Despite the searing heat, Kazuki Nakajima was the only retirement of the 20 cars. The under pressure Nelson Piquet and Sebastian Bourdais both put in solid performances, but Felipe Massa saw his race wrecked by an early extra stop with KERS problems, while the BMWs were both damaged in a first-corner incident and finished 18th and 19th.
Button now leads the drivers' championship with 31 points, ahead of Barrichello on 19 and Vettel on 18. Brawn has 50 points in the constructors' contest, with Red Bull and Toyota locked in battle on 27.5 and 26.5.
Bahrain Grand Prix result
Jenson Button, Brawn GP
Sebastian Vettel, Red Bull
Jarno Trulli, Toyota
Lewis Hamilton, McLaren-Mercedes
Rubens Barrichello, Brawn GP
Kimi Raikkonen, Ferrari
Timo Glock, Toyota
Fernando Alonso, Renault
Nico Rosberg, Williams
Nelson Piquet, Renault
Mark Webber, Red Bull
Heikki Kovalainen, McLaren-Mercedes
Sebastien Bourdais, Toro Rosso
Felipe Massa, Ferrari
Giancarlo Fisichella, Force India
Adrian Sutil, Force India
Sebastien Buemi, Toro Rosso
Robert Kubica, BMW Sauber
Nick Heidfeld, BMW Sauber
Not classified
Kazuki Nakajima, Williams