Important note:
This story is NOT about the ending of the 2010 race – it is a story from the build-up to the 2009 race. For today's coverage
see here
.
British Indycar driver Mike Conway was released from hospital in Indianapolis this evening after being taken there with concussion and bruising to his lungs following a high-speed crash during a practice session for the Indy 500 on Sunday.
Conway, who crossed the Atlantic to drive for Dreyer & Reinbold after two full seasons in GP2, lost traction and hit the wall at turn one of the Indianapolis Motor Speedway on just his second lap of practice on Sunday morning when preparing for the qualification session later that day.
He complained of back pain and was taken to Methodist Hospital in downtown Indianapolis. Indy Racing League medical director Dr. Michael Olinger said he was treated for bruised lungs but we was awake, alert and listed in good condition.
Team co-owner Dennis Reinbold said: "It's unfortunate that happened. He was poised to run well and would have been set up to run good today. I hate to have him miss track time and the opportunity to qualify."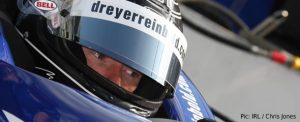 Dreyer & Reinbold used its Twitter feed to update fans on his condition on Monday morning (US time), writing: "Mike Conway cracking jokes at Methodist hospital last night. Feeling well this morning… sore of course." Then, at about 8pm UK time, came: "Great news – Mike has been released from Methodist!"
A statement from race organisers warned: "Due to a mild concussion, Dreyer & Reinbold driver Conway will not be medically cleared to drive until he is evaluated by Indy Racing League doctors on Friday, May 15. He is not expected to resume participating in on-track activity until at least Saturday, May 16."
That means he will have to launch himself into the third day of qualifying, where starting places 23-33 will be decided, with almost no preparation. If he fails to qualify on Saturday he will have to take his chances on bump day, when drivers who are not in the field attempt to displace the slower of those who are.
If Conway isn't cleared to drive – or if his team decide not to risk him after his three non-finishes in three races followed by this latest crash – the veteran Darren Manning is waiting in the wings if needed. Manning drove the first two races of the season for D&R but has no deal for the remainder of the season and is at the Indianapolis Motor Speedway trying to drum up interest.
He said: "I'm kind of always looking for a ride, but whether one comes available that suits my situation is another matter. It's not like it's going to be my first speedway or anything, so what I'm looking for is different than a rookie, for example.
"There's no point in me going out in something just bumping into the field and pounding around in the back of the field. Mid- to mid-front pack cars are all full, so I'm just trying to work on my relationship with Dreyer & Reinbold Racing seeing as I've done a couple of races with them this year. There may be an opportunity to do some more this year."
He confirmed he had been approached by the team about standing in for Conway if necessary, but said he did not expect to be needed: "It was a bit of unfortunate situation this morning with Mike. I got the call to kind of be on stand-by, and I'm fortunate that they've got all my seats and everything and I'm available for it, but I don't think that's going to be needed.
"I think Mike's going to be absolutely fine, I think we'll see him back out next week, so I'll just concentrate on my deal. I've got Grand-Am racing that I'm doing and hopefully a few more races with these guys, and work on something for next year, as well."
Two drivers who don't need to worry for the short-term are Justin Wilson and Dan Wheldon, both of whom made their immediate futures simpler by qualifying for the race on Sunday. But while Wilson was pleased with 15th for the underfunded Dale Coyne team, Wheldon was less pleased with 18th for the ambitious Panther Racing.
Wilson said: "I really enjoyed being out there. The car was working well, and Dale Coyne Racing had the car to where it was comfortable and fun to drive. Each time we went out this weekend, we were quicker. Things really worked out.
"It was fun to drive today. The run was fairly straightforward. – I noticed straightaway that I had more push than I was expecting. I kept playing with the roll bars and weight jacker to cancel out the understeer. It usually gets worse lap after lap, and I was canceling that out with my adjustments.
"The more laps in the car, the more I enjoy this place and you appreciate what it's about. Every time I came out of the corners, I had a big grin on may face. Now is the time to begin getting ready for the race, to get everything as perfect as we can and go do some race setups with full tanks and long runs."
Wheldon, a former winner who was considered by some to be an outside shot for victory this year, missed Pole Day qualification after a crash in practice. He said his car was not yet up to the job of winning: "Not right now, but that's what this month is all about. It's a very challenging month, and there's a lot of highs and lows. That's what Indianapolis is all about. It's a tough month, and it can be very hard. But it can also be very rewarding.
"It's been difficult, so far. We have an imbalance in the car, and certainly, the No. 4 National Guard Panther Racing team did a good job to get the car back together after yesterday. But we're just missing a little bit. By the same token, I think if we work hard, we can hopefully fix it. The team is certainly good enough to do that.
"It's just made for a very challenging opening few days. Obviously, with the problem that we have, having less downforce for a qualifying trim kind of accentuates that. But if you're going to win this race, you have to feel like you have a very good balance and you feel 100 percent comfortable in the car."
Indy 500 qualifying positions
After day two qualifying
Row
Inside
Middle
Outside
1
Hélio Castroneves
Team Penske
Ryan Briscoe
Team Penske
Dario Franchitti
Target Chip Ganassi Racing
2
Graham Rahal
Newman/Haas/Lanigan
Scott Dixon
Target Chip Ganassi Racing
Tony Kanaan
Andretti Green Racing
3
Mario Moraes
KV Racing Technology
Marco Andretti
Andretti Green Racing
Will Power
Penske Racing
4
Danica Patrick
Andretti Green Racing
Alex Lloyd
Sam Schmidt / Ganassi
Raphael Matos
Luczo Dragon Racing
5
Paul Tracy
KVM Racing Technology
Vitor Meira
AJ Foyt Enterprises
Justin Wilson
Dale Coyne Racing
6
Hideki Mutoh
Andretti Green Racing
Ed Carpenter
Vision Racing
Dan Wheldon
Panther Racing
7
AJ Foyt IV
AJ Foyt Enterprises
Scott Sharp
Panther Racing
Sarah Fisher
Sarah Fisher Racing
8
Davey Hamilton
Dreyer & Reinbold / Kingdom
–
–