Scotland's Dario Franchitti led for most of the Indianapolis 500, but before he could collect the win he had to endure some frantic and confused closing laps during which many drivers ran short of fuel, positions rapidly changed and Mike Conway suffered a ghastly crash.
[youtube:http://www.youtube.com/watch?v=r4CCWoF-DCU]
Franchitti, who previously won the race in 2007 before spending 2008 in NASCAR, said: "Up until 10 laps to go it was quite relaxed but then all Hell broke loose with fuel saving and everything. To come back from a year away and win the championship and then win the Indy 500 – it just means so much."
In a race littered with crashes and caution periods, the impact between Conway and Ryan Hunter-Reay with barely a lap to go was by far the most dramatic and dangerous as the Kent driver's car was flung into the air and into the retaining wall, flipping over and distingrating on impact.
Even as wild celebrations broke out in pit road for Franchitti and fellow Brits Dan Wheldon and Alex Lloyd who crossed the line in second and third, medical staff were racing to the wreckage of Conway's car, which had been reduced to little more than the driver's survival cell.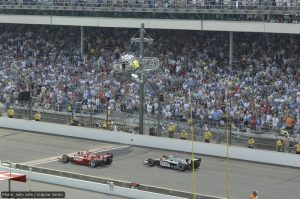 Eventually he was freed and managed to wave to the crowd before being flown to hospital. The track medical team was quick to stress a helicopter had been used solely to beat the traffic and not because he was in any danger, saying he had suffered an "orthopaedic injury" to his leg.
As Indy Lights driver Pippa Mann wrote on Twitter, "My friends are talking about the British 1,2,3. I'm afraid my thoughts are with Conway."
Later the team said on Twitter: "Thank you all for your thoughts and prayers for our Mike Conway. Your support is very much appreciated. We can confirm that Mike was awake and alert after the accident, has a broken leg, and was airlifted to Methodist due to traffic concerns."
Earlier in the race Conway had led 15 laps as the best-placed of four drivers who attempted a late strategy gamble by staying out as the rest of the field pitted for more fuel.
Conway, team-mate Justin Wilson, Helio Castroneves and Graham Rahal succeeded in jumping Franchitti, but would have needed a long caution period to make it to the end without having to stop for fuel themselves – and when they didn't get it they peeled into the pits one-by-one and gave the Ganassi driver the lead again.
Throughout the race Franchitti led a succession of different challengers, with many falling away thanks to penalties or errors. For Team Penske, Will Power and Castroneves both suffered botched pit stops while Ryan Briscoe crashed into the wall and retired.
Neither qualifying hot-shot Alex Tagliani nor Franchitti's fellow Ganassi driver Scott Dixon ever really featured, while both Rahal and Townsend Bell were penalised for blocking and Ed Carpenter was caught out by an unluckily-timed caution period that closed the pits just as he was running out of fuel.
Sterner opposition came from the Andretti Autosport cars, despite the team having had a dreadful build-up to the race. In particular, Tony Kanaan raced from a starting position of 33rd and last right up to second place, dragging Marco Andretti into contention with him.
But in the final few laps, as most of the field slowed and began trying to save fuel to greater or lesser extents, Kanaan was forced to make one final splash and dash that cost him a podium.
A new set of cars came into contention, led by Wheldon who had stealthily been gaining places all race on his way to his second consecutive runner-up spot, just a car-length behind Franchitti. He said later: "Even if I have to race until I'm 86 years old, I'm going to keep racing until I win another 500."
Lloyd, on nobody's list of pre-race favourites, appeared to have grabbed third ahead of Dixon while Danica Patrick came through to fifth, leaving Andretti complaining that he should have had the final podium place, if only everyone had slowed down properly for the Conway/Hunter-Reay crash as he did.
And, some hours after the race ended, his version of events was eventually upheld – meaning that the final classification was Franchitti first ahead of Wheldon, Andretti, Lloyd in fourth, Dixon, and Patrick in sixth.