Dario Franchitti qualified on pole for the Indy Grand Prix of Sonoma, but his performance was overshadowed by the crash in practice that left Will Power and Nelson Philippe in hospital, one with two fractured vertebrae and the other with a broken bone in his foot that needed immediate surgery.
Philippe, making his debut for Conquest after replacing Alex Tagliani, spun after cresting a blind summit on the hilly California circuit. His car was clipped by the next driver to come through, EJ Viso, and then broadsided by the following Power.
"It's a very fast and tough corner, and it's blind, too," said Viso, who was uninjured. "I came over the hill and just saw something green. I knew it was Nelson, but I was going through so fast. I just went to avoid him, but it's so tough. I didn't see much by the time I had to try and avoid the car."
Power's boss at Team Penske, Tim Cindric, said the Australian had told him there were warning flags for Philippe's car, but almost no time to react to them: "He remembers the whole incident and from what I understand the flagmen were doing their job but when you come over that hill there is not much time to react.
"It's unfortunate because we wanted him to end the season on a high note and we are working towards putting something together for him for next year. It doesn't help when he has to sit on the sidelines to keep that momentum going."
Power was signed by Team Penske before the season as insurance in case Helio Castroneves lost his tax evasion trial. His performances were so strong that the team was compelled to field him in more races despite the Brazilian's return. "Will has done a lot to help us out this year, and it's just a shame that this had to happen to him today," said Castroneves.
Philippe ran in the Indianapolis 500 as a one-off for HVM and struck a deal with Conquest after Tagliani became unhappy with the squad's development and left. Conquest owner Eric Bachelart said: "We never want to have to pull out of a race, especially under these circumstances. While we regret not being able to participate in this weekend's event, the most important thing is that Nelson will be all right. It was a scary incident and we wish both Nelson and Will speedy recoveries."
Power was airlifted to Santa Rosa Memorial Hospital and was found to have compression fractures of the L2 and L4 vertebrae, while Philippe was driven to the same hospital with a broken right tibia and an open fracture of his left foot that required a plate and eight screws. Both drivers also suffered concussions.
Franchitti, who went on to top the Firestone Fast Six pole shoot-out ahead of Power's team-mates Ryan Briscoe and Castroneves, called it a "horrible accident".
So far this season the Scotsman has qualified for every Fast Six, the method used to decide the grid on road and street courses, although not ovals. He called the achievement "pretty cool", adding: "It's so hard in the IndyCar Series with the competition level – there are so many good road racers.
"To make it into the Fast Six is an achievement every time – so, to be in them all, I've got to thank my guys for giving me good cars. Sometimes you have to hang on to it as well and sometimes you have to wheel around. Today I had a pretty good car. In a couple corners I had to commit to them and hang on, but in general the car was really good. I'm very happy to get the Target car on the pole for the race.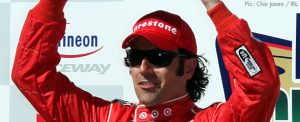 Joining the three front-runners in the Fast Six were Marco Andretti and Hideki Mutoh of Andretti Green Racing and Newman/Haas/Lanigan's Graham Rahal. AGR is running five cars in the race, adding Franck Montagny to its usual line-up, and experienced a marked improvement on its usual road course performance with Tony Kanaan seventh, Montagny eighth and Danica Patrick 11th.
Dan Wheldon, who has been weak on road courses all season, managed to make it through to the second stage of qualifying and took 12th on the grid, but Justin Wilson suffered suspension problems and will start from the penultimate row in 19th.
Wheldon said: "The team has done a really good job; we had a couple of bad races and it was frustrating for everybody involved. But we found something at Mid-Ohio in the race that definitely helped me get the feel I need from the racecar and since then we've had a really good run.
"We were quick in the test here last week and we've been quick yet today. I even felt like there was a touch more in the car, but the No. 4 National Guard team has worked really hard and we're hoping for a good race tomorrow where we can get back on track."
Wilson reckoned he'd lost a potential front-row start: "It's very disappointing. We had some good improvements between sessions and knew where we needed to go to challenge for the front row again. The car was bottoming a lot in the first stint and was loose in the corners. I knew something wasn't right, but I'm not sure why we had the wishbone problem, because I didn't hit anything and never left the track. Obviously that's just the way things go sometimes and we'll go back and work on getting ready for tomorrow."
Mike Conway's highly impressive performance at Sonoma in a test last year contributed to his ride in the IRL this season and was repeated in a second test session during the run-up to this race weekend. But he qualified only ninth for Dreyer & Reinbold and badly needs a good result.
He said: "Obviously disappointed to finish up ninth, we should have been looking at the top six at least. It is a bit frustrating really, but tomorrow is another day. The race is coming up, so now we will focus on that."
Championship leader Scott Dixon will have his work cut out to prevent yet another lead change in this closely fought season, managing only 10th in qualifying: "It was pretty dismal, actually – I'm really frustrated," he said.