Lewis Hamilton is on pole for tomorrow's Belgian Grand Prix after a blinding final lap edged him past Felipe Massa for the top spot.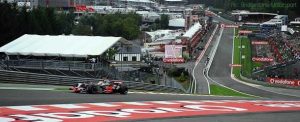 In a move that strengthens his claim to be Ferrari's lead driver, the Brazilian defended his front-row place from a startlingly on-form Heikki Kovalainen.
Reigning 'King of Spa' Kimi Raikkonen could do no better than fourth – to the visible disappointment of his garage crew.
A grinning Hamilton said after the race: "Coming from Valencia we knew we had some work to do and I've come here feeling better than ever.
"Tomorrow's going to be a challenging day for all of us, but as you can see, I can't stop smiling. With our package and preparation we'll be hard to beat."
BMW Sauber's Nick Heidfeld is fifth after outperforming team-mate Robert Kubica for once – although, of course, the Pole's eighth place could prove to be down to fuel strategy.
Renault's Fernando Alonso is sixth after a rewarding practice session that saw him top the timesheets yesterday.
A superb session for Toro Rosso saw the team majestically outperform stablemates Red Bull for most of the morning – although Mark Webber found a sufficient performance burst in the final session to pull himself up to seventh place.
Sebastien Bourdais led the field at the end of the first session, and was able to translate his performance into an eventual ninth on the grid. Sebastian Vettel, thought to be fuelled very heavy for a potential two-stop strategy, lines up tenth.
David Coulthard, who was among the lap leaders during some parts of the morning, starts 14th. He said: "I'm not so happy with that. Fourteenth doesn't look good, but it's so tight in the midfield and we're separated by such a small margin. Let's see what we can do tomorrow."
It was another disappointing session for Honda in which both drivers failed to make it past Q1, with Force India looking the likelier to advance for most of the session until a late flurry from the Brackley team put them back in their place.
Jenson Button experienced problems with his car in both morning practice and in qualifying and will start from 17th. He said: "My first lap in qualifying was the first lap that I did today so in a way it was nice to be able to beat some of our competitors and be close to my team mate.
"It was a decent session for us, at the level of performance which the car is showing this weekend, and we will at least be starting from the clean side of the grid.
"Rain tomorrow would make the race more interesting but unfortunately it's not looking likely."
It was also an unhappy morning's work for the Williams team with Kazuki Nakajima stranded in 19th place after Q1 and Nico Rosberg unable to do better than 15th in Q2.
Grid positions and fastest lap times following Belgian Grand Prix qualifying
Lewis Hamilton, McLaren: 1:47.338
Felipe Massa, Ferrari: 1:47.678
Heikki Kovalainen, McLaren: 1:47.815
Kimi Raikkonen, Ferrari 1:47.992
Nick Heidfeld, BMW Sauber: 1:48.315
Fernando Alonso, Renault: 1:48.504
Mark Webber, Red Bull: 1:48.736
Robert Kubica, BMW Sauber: 1:48.763
Sebastien Bourdais, Toro Rosso: 1:48.951
Sebastian Vettel, Toro Rosso: 1:50.319
Jarno Trulli, Toyota: 1:46.949
Nelson Piquet, Renault: 1:46.965
Timo Glock, Toyota: 1:46.995
David Coulthard, Red Bull: 1:47.018
Nico Rosberg, Williams: 1:47.429
Rubens Barrichello, Honda: 1:48.153
Jenson Button, Honda: 1:48.211
Adrian Sutil, Force India: 1:48.226
Kazuki Nakajima, Williams: 1:48.268
Giancarlo Fisichella, Force India: 1:48.447