Scott Dixon lost the Indy 300 to Helio Castroneves by the second closest margin in IRL history – but his runner-up spot was easily enough to crown him champion in a thrilling final race of the season.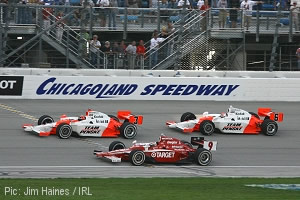 Dixon needed to finish eighth or better to guarantee himself the title, while Castroneves needed to shrug off a back-row start and win both the race and the bonus points for leading the most laps to stand even the slightest chance of prevailing.
The Brazilian fulfilled his side of the deal, and for some of the race surging performances from normally midfield runners such as EJ Viso and Mario Moraes pushed Dixon so far back that Castroneves was champion-elect.
But the New Zealander emerged from the final round of pitstops in the lead and from that point on was unassailable for the title.
At the line, just three one thousandths of a second separated the cars – the finish was so close that initially Dixon was thought to have won and his car was wheeled to Victory Lane in preparation for his celebration.
Castroneves was told of his victory while giving media interviews about how his ninth second place of the year summed up his whole season. Dixon, it has to be said, did not look overly disappointed at having the victory taken away.
The New Zealander had to drive a careful, patient race while stuck in seemingly endless traffic: "It was tough, especially when you're racing around 10th.
"You've got people in front of you, people behind you and they're all trying to do crazy things and it's really tough to keep yourself calm and know that you've got the car to get to the front and just wait for a green-flag run to make it happen was happen was probably the hardest part."
Castroneves was ecstatic when told the victory was his: "I knew I won it, I knew. We try everything, everything, to win. We did everything we could. Scott Dixon and those guys they had a little better luck and they wound up winning the championship. Congratulations to them."
Despite seven yellow-flag caution periods the race was packed with action from first lap to last. Leaders ran three abreast for lap after lap at more than 214mph, packs of cars raced locked in close formation separated by fractions of a second, and overshadowing it all was the will-he, won't-he saga of whether Castroneves could recover from the qualifying penalty that had relegated him to starting at the back.
An early casualty was Ed Carpenter, whose Vision Racing car suffered a mechanical failure, hit the wall, and slid into the centre of the oval with its rear pouring flames. The driver was unharmed.
Ryan Briscoe started on pole and was in contention for most of the race, eventually taking third place less than eight one hundredths of a second behind the winner. Tony Kanaan finished fourth, with Will Power fifth.
Dan Wheldon led 13 laps – most of them by inches – in his final race for Target Chip Ganassi Racing but could only finish sixth, with Darren Manning putting aside a poor qualifying performance to take seventh.
The top 10 was rounded out by Marco Andretti, Ryan Hunter-Reay and Danica Patrick – the latter suffering from an unluckily-timed pitstop after running near the front for most of the race. Justin Wilson, winner of the previous race, was 11th.
Power's strong performance was not enough to net him rookie of the year honours – Hideki Mutoh took that, finishing 10th in the championship with 346 points. Wilson was 11th with 340 and then came Power with 331.