Jay Howard made the most of a last-minute call-up for the Indy Lights Firestone Freedom 100 to take a careful fourth place in a race of wheel-to-wheel action and high attrition.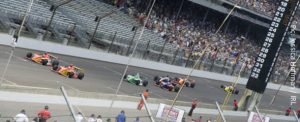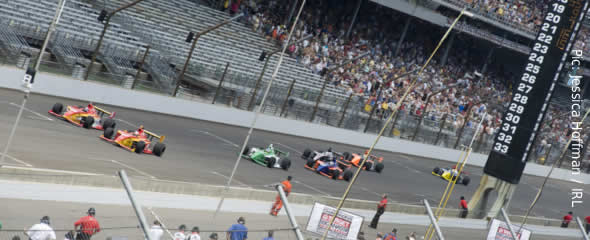 Only 12 of the 22 starters finished the race, with polesitter Wade Cunningham triumphing in a tight four-way battle with JR Hildebrand, Mario Romancini and Sebastian Saavedra that saw the lead change nine times.
"That was 100 percent every lap," said Cunningham. "That last lap and a lap I was yelling at my car to keep going like a jockey on his horse. The whole race was to and fro – it was a matter of being at the right place at the right time."
Howard, whose Team Palm Beach International Raceway entry was so late that he was unable to take part in the first practice session, tracked closely behind the leaders and picked off Saavedra in the final laps after the Colombian clipped the wall and damaged his car.
He said: "It was actually a really fun race – it was crazy. Every time we went into turn one it was side-by-side, and two people side-by-side don't go through turn one very well.
"There were a few white-wall incidents out there but, overall, it was really good. Considering we decided yesterday morning at the last minute that I should come and race, I think it's a really good result for Palm Beach and everyone involved."
Palm Beach president Ron Dixon, father of reigning IRL champion Scott, said: "The decision to put Jay in the car was a last minute deal. He had to borrow a helmet from my son and gloves and other race gear from various teams.
"He missed the first practice and got some seat time during the second. I was really impressed with his qualifying effort for the race and am pleased with his finish."
Howard's was the only British success of the day, as Panther's Martin Plowman lost control early in the race and collected team-mate Pippa Mann, while Ali Jackson was forced to retire later on with mechanical problems. The trio were classified 22nd, 21st and 19th.
Brazilian Ana Beatriz was among the leaders until lap 16 when she touched team-mate Gustavo Yacaman and was sent spinning head first at full speed into the circuit's inner wall – a surface which lacks the special safety construction of the outer wall.
A tense eight-lap safety car period followed as Beatriz was stretchered away for x-rays on knee and elbow which eventually came back as negative, leaving her with only a chin laceration as a souvenir.