Dario Franchitti led from start to finish to win an unexpectedly interesting Indy Grand Prix of Sonoma ahead of Ryan Briscoe, with under-fire Brit Mike Conway breathing down their necks in a potentially career-saving third place.
The Infineon Raceway at Sonoma in California's hilly wine-producing country is sometimes nicknamed 'Infini-yawn' or 'Snore-noma' for the lack of overtaking and the processional races, but this year's contest was both intriguing and explosive, despite having only one leader throughout.
The race had barely begun, with polesitter Franchitti leading Team Penske rivals Briscoe and Helio Castroneves, when the midfield was engulfed by a multi-car second-corner crash that sent almost a dozen drivers plunging down the field or scurrying back to the pits for repairs.
Among the biggest losers were EJ Viso who was knocked out altogether, Graham Rahal who was stuck in the pits for lengthy repairs, and Danica Patrick who ended up a lap down for the rest of the race. Others such as Conway, Marco Andretti and Scott Dixon all lost large numbers of places.
There were some gainers, too, including Dan Wheldon and Justin Wilson. Wheldon found himself in the unusual position of running near the front on a road course and, although he slipped back as the race unfolded, looked set for a top 10 finish until a late problem forced an extra pitstop.
Wilson started the race on the harder Firestone black tyres from near the back following problems in qualifying, with a fixed strategy of pitting at the earliest possible moment to switch to reds and staying on them for the rest of the race. He stuck with the plan even after the early accident catapulted him up to 11th, dropping to the back again after his pitstop but lapping as fast as the leaders.
This activity resulted in a gripping race, as faster cars out of position at the back attempted to make their way through the field, and some of the upper-midfield drivers enjoyed battling for the podium.
Franchitti was magisterial at the front, retaining the lead even after his first pitstop and soaking up all the pressure applied by the Penske pair on his way to becoming the first driver to lead every lap of a full-length IRL race.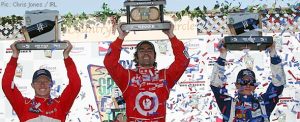 Briscoe stuck doggedly in his mirror, but Castroneves bashed wheels with Tony Kanaan after his second pitstop and the resulting damage caused him to fade from third until abruptly driving straight on at turn one on lap 67 of 75, his car expiring in a cloud of dust from the parched California hillside.
This, and Ryan Hunter-Reay similtaneously stalling in turn six, brought out the second full-course caution of the race and set up a shoot out over the last five laps.
By this time, Hideki Mutoh had reached third place ahead of Mario Moraes, returning after missing a race following the death of his father. Conway, always fast at Sonoma, was up to fifth, and Oriol Servia was being made to work hard to hold off Wilson in the battle for sixth and seventh.
No places changed hands on the immediate re-start, but that didn't last long. Conway overtook both Moraes and Mutoh, and the Brazilian followed him past the Japanese. Wilson span while hustling Servia but – despite the nose-to-tail racing – recovered the car with a loss of only one place, which he regained by the flag.
And Conway, whose speed has never been in doubt but whose race craft has been widely criticised, cruised up to the back of Briscoe and looked well capable of sweeping through to fight for and take the victory, had he not ran out of laps.
There was room for one final drama on the last lap, as Andretti rammed the 10th-placed Dixon, who was already resigned to losing his championship lead and suddenly found himself punted back to 14th. The American was given a post-race punishment that dragged him back behind Dixon and the pair were classified 13th and 14th.
Franchitti said his biggest problem had come when lapping the predictably-slow Milka Duno: "I had one scare when the 23 car was chugging along as usual and let Ryan get a run on me.
"It was a good weekend for Target Chip Ganassi Racing. The Target cars were pretty good. On the red Firestone tires they were very good. Qualifying up front allowed us to control the pace of the race and go just as fast as we used to go and that really helped us."
Conway said the start of the race had seemed bad: "In the beginning, we got hit from behind and I got a puncture in my rear tyre. I thought my race was finished. I just kept pushing all the way and just kept moving forward, and I kept setting quick times.
"Towards the end, I knew I might be able to get past the guys in front. The Tran Systems car was really good today. If we had a few more laps, it would have been interesting to see if I could get past those guys."
Wilson said the race had been fun, but long and tough, and speculated that he might have been another victim of the first-lap crash if his qualifying hadn't been so poor. "We decided to pit early, make an extra stop, and go flat out for the rest of the race."
The result means the series lead has changed once again, Briscoe and Franchitti both overtaking Dixon. Briscoe now has 497 points, Franchitti 493 and Dixon 477. Castroneves and Patrick remain fourth and fifth.